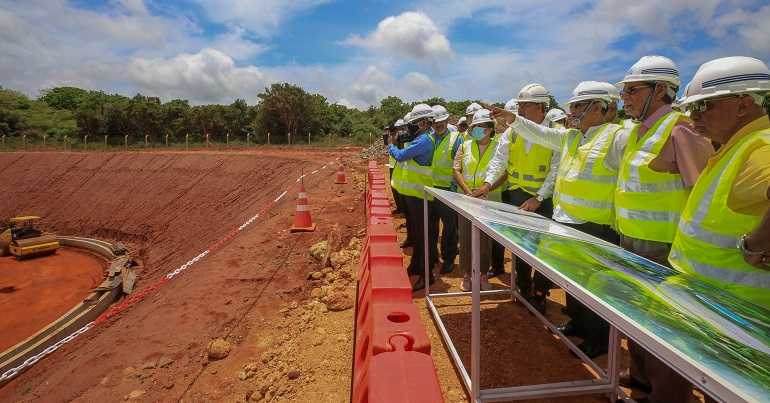 Around 1,200 tonnes of garbage can be deposited at facility per day
Garbage will be taken from Kelaniya area by two special trains to Aruwakkalu
---
Work on Aruwakkalu Garbage facility in the Puttalam District has been expedited, and will be completed by next September, the Urban Development and Housing Ministry said.

Around 1,200 tonnes of garbage can be deposited per day after the completion of the Aruwakkalu Sanitary Garbage Dump under the Colombo Metropolitan Solid Disposal (Metro Colombo Solid Waste Management) project.

Two special trains consisting of 30 compartments each will be used to transport the garbage, with one train able to carry 600 tonnes of garbage at a time, Ministry officials said.

After around two years, the project is expected to generate natural gas, which is expected to generate energy for the project and could also be added to the national grid.

The need for a scientific, eco-friendly long-term solution to the garbage crisis has been the need for a long time, and was first addressed during the tenure of President Gotabaya Rajapaksa when he was Defence and Urban Development Ministry Secretary.

Urban Development, Coast Conservation, Waste Disposal and Sanitation State Minister Dr. Nalaka Godahewa and the Urban Development and Housing Ministry Secretary Sirinimal Perera toured the site this week.

Dr. Godahewa said around 600 to 700 metric tonnes of garbage is collected in the Colombo city alone and also from its suburbs.

Once the Aruwakkalu garbage facility opens, all the garbage will be collected in the Kelaniya area, separated and brought to the Puttalam area by rail and sent to the sanitary facility.

The sanitary landfill project is located on a 265-acre area in the Aruwakkalu. A separate section has been set aside as a park, to create a protected area and an eco-friendly environment.

Construction is being carried out by the China Harbour Ltd., and is being overseen by the Central Engineering Consultancy Bureau (CECB) and a South Korean company.