S.M. Abeywickrema new Railway GM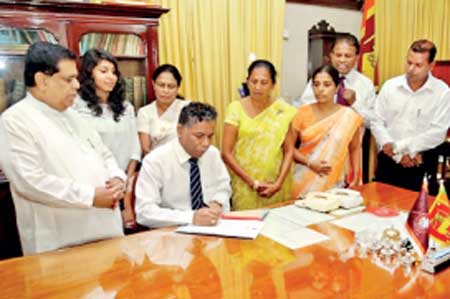 Minister of Transport and Civil Aviation Nimal Siripala De Silva said the present Government will not privatise the railway service at any cost.

He said at present other modes of transportation, specially the private bus service, had posed a challenge to the railway service, but the railway too should be maintained at least on a no-profit, no-loss basis.

Addressing a ceremony held recently at the Railway Department, the Minister said that all Railway TUs should support the newly-appointed General Manager S.M. Abeywickrema to provide a quality train service to commuters.

Abeywickrema has over 32 years of experience in the Department of Railway.

Speaking further on the development of the railway service, the Minister added that under the Indian line of credit they had made orders to purchase engines and those would arrive in another one and a half years.

The department has also ordered compartments from China. In addition, orders have been placed to purchase seven engines for the upcountry line. The Minister said that they had already called for tenders to fix bell and light signals instead of the bamboo gates at unprotected railway crossings.