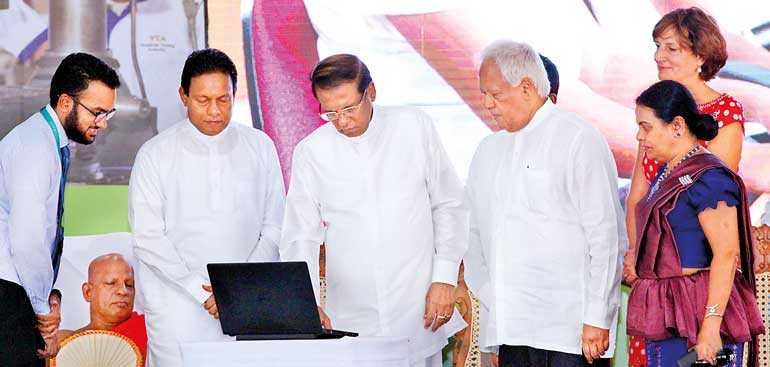 Speaking at a ceremony held last Friday at Higurakgoda for laying the foundation stone for a building complex for a new National Vocational Training Institute and the inauguration of the 'Nipuni' Job Bank, by President Maithripala Sirisena, Minister of Science, Technology, Research, Skills Development, and Vocational Training and Kandyan Heritage Dr. Sarath Amunugama pointed out that we have kept a proud record of using technology even in ancient times.

He said that the hydrologic technology used in the construction of tanks in the Rajarata was far in advance of those times. So was the technology used at Sigiriya. The Minister said that inspired by these examples we should make Sri Lanka an advanced technological society.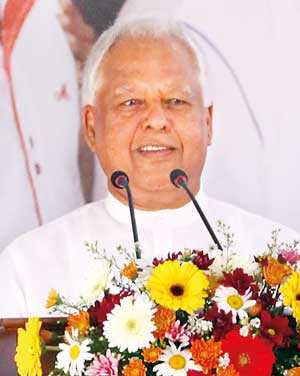 The Minister acknowledged that the Government has a big responsibility towards the youth of the country who are facing an acute problem of employment. He said that the only solution to this problem is through the acquisition of vocational and technological skills required by the modern work place. For this reason the Minister said that he has directed all the vocational and technological training institutions under his ministry to double their intake of students from next year.

He said that he has also directed them to upgrade their courses of training to international level so that a person who has qualified at any of these institutions will be able to find employment not only locally but anywhere in the world. The Minister said that the objective of the Government is to secure for the youth not just any job, but good jobs based on advanced technology.

Referring to the web based 'Nipuni' Job Bank inaugurated by the President at this event, the Minister said that it will contain full and regularly updated information about all NVQ qualified persons in the country, from Level 2 to Level 7, so that prospective employers will be able to select and recruit the personnel they need without any hassle. He said that he is aware that already some big time employers like John Keells and Mobitel are looking out for NVQ qualified persons.

The Minister paid a big tribute to President Maithripala Sirisena for the great concern that he has for the youth of the country and his services towards the modernisation of the country as well as his excellent leadership.