Says he was only given two vehicles as security detail, uses personal vehicle
Vehicles shown in reports belonged to other police and military officials as well as MPs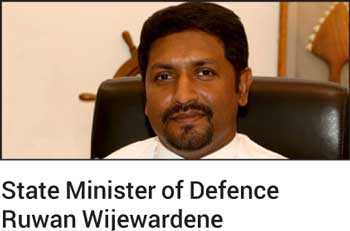 State Minister of Defence Ruwan Wijewardene yesterday said the vehicles that were seen with his convoy during his visit to Minuwangoda this week were military vehicles that were used for security purposes in the area and not part of his security detail. Issuing a statement, Wijewardene said that he had undertaken a visit to Minuwangoda to see the impact of the anti-communal attacks first-hand this week. However footage of this visit had been widely publicised and shared on social media erroneously indicating that he had a large number of vehicles for his security.

"As State Minister of Defence, I have only been given two vehicles and 10 security personnel. When I visited Minuwangoda this week, I was accompanied only by those two vehicles. Since I took over my post, I have used my personal vehicles and not any given by the State. However, in this instance, there were a number of important officials who were part of the visit and their convoys were mistakenly publicised as mine. This is a misleading report," Wijewardene said in the statement.

He said seven high-level police and military officials were present as well as a number of Parliamentarians and one Deputy Minister from Gampaha. Their convoys together with the security vehicles that were already deployed to restore calm to the tense situation in Minuwangoda were also present, the statement added. "An erroneous impression of me has been created due to these vehicles being mistaken as my security detail. I request all media to clarify this situation and ethically report the situation," he said. Minuwangoda was badly affected by the anti-communal violence that swept through the Gampaha district earlier this week. Dozens of shops were attacked by large and well-organised groups with many being set fire to. Sri Lanka's largest pasta factory that manufactured the 'Rosa' brand and was Muslim-owned was also gutted in the attacks. Management told media that a group of about 200 people showed up at the factory, bringing with them tires, and set fire to the entire complex. The factory mostly employed Sinhala Buddhist people. Management has estimated damages to be about Rs. 700 million.