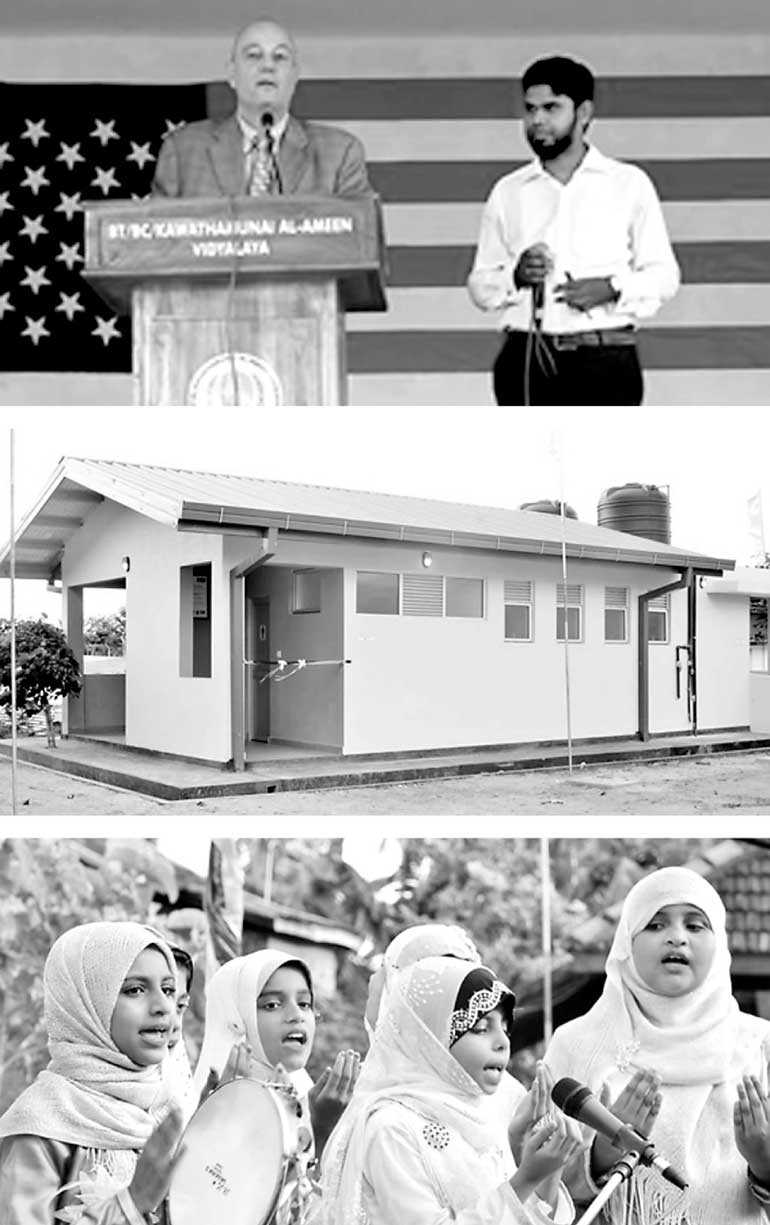 As part of the United States Government's support for a reconciled and unified Sri Lanka, the US Pacific Command (PACOM) renovated two schools in the Eastern Province, the US Embassy in Colombo said in a release.

US Embassy Counsellor for Press, Academic, and Cultural Affairs James L. Russo presided over the official ribbon cutting ceremonies on 2 and 3 July.

Also participating were Deputy Minister of National Integration, Reconciliation, and Official Languages Ali Zahir Moulana, Coordinating Secretary for Deputy Health Minister Zarrjun Aboobucker, Zonal Director of Education M.L. Ahamed Junaid, and PACOM Captain Robert Holbrook.

PACOM funded the renovation of the Kavathamunai al-Ameen school, which cost $ 308,292 (Rs. 47,710,136). This gift from the people of the United States of America to the people of Sri Lanka includes the renovation of a classroom building and the construction of an emergency kitchen, 10,000 litre rainwater harvesting system, and a handicap-accessible bathroom.

PACOM also contributed $ 272,174 (Rs. 43,003,492) for the renovation of the Abdul Cader School. This project renovated a classroom building and constructed an emergency kitchen, 10,000 litre rainwater harvesting system, and a handicap-accessible bathroom.

Both renovation projects will improve the learning environment of the students while providing the community with a designated safe haven during times of emergency.

PACOM selected these schools based on recommendations from the Sri Lankan Eastern Province Ministry of Education and the Disaster Management Centre.

"It is an honour to be here in Batticaloa. This year, we are celebrating 70 years of US-Sri Lankan partnership and recall that on February 4, 1948, the then-US President Harry Truman was one of the first foreign leaders to recognise Sri Lankan independence. Since then, US cooperation has amounted to more than $ 2 billion (Rs. 314 billion) in developmental assistance. We are privileged to participate today with the Ministry of Education in the renovation of these important centres of learning. As all the hardworking teachers in this room well know, education is the key that opens the golden door of opportunity," said Russo.