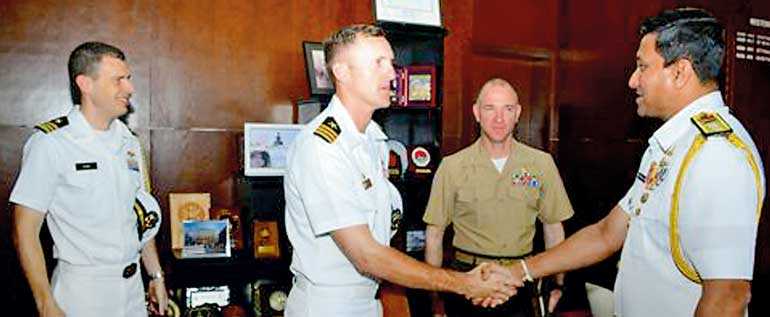 United States Navy's dock landing ship USS Rushmore (LSD 47), with the embarked 13th Marine Expeditionary Unit (MEU) had arrived in Colombo for a scheduled port visit on Friday.

Sri Lanka Navy welcomed the ship and the crew in accordance with naval traditions, the Navy Media Unit said.

The 185m long vessel with a displacement of 18000 tons is manned by 380 officers and sailors and commanded by Commander Robert Tryon.

Part of a growing US-Sri Lanka naval partnership, the visit marks the second port visit by a ship assigned to the Essex Amphibious Ready Group (ARG) following USS Anchorage's visit to Trincomalee in August, according to the US Navy information service DVIDS.

Additionally, the visit follows the Sri Lankan Navy's inaugural participation in exercise Rim of the Pacific (RIMPAC) which concluded on 2 August, as well as exercise Cooperation Afloat Readiness and Training (CARAT) Sri Lanka, held for the first time last year.

During USS Rushmore's visit, the crew is scheduled to engage in several programs organized by the Sri Lanka Navy and expected to visit some of the places of tourist interest in the island.

Commanding officer of Rushmore Cmdr. Robert Tryon has said that Sailors and Marines are excited to be a part of the continued role in continuing to grow the US-Sri Lanka naval partnership, Petty Officer 3rd Class Reymundo Villegas said.

"The embarked Sailors and Marines are enthusiastic for the opportunity to experience all that Sri Lanka has to offer," said Tryon. "We are excited for the opportunity to continue to build upon USS Anchorage's port visit to Trincomalee in August." During the visit, key leader engagements between senior leadership of Rushmore, the 13th MEU and the Sri Lankan Navy will continue to build the foundation on mutual understanding to increase interoperability between the US and Sri Lanka, including the extensive humanitarian aid and disaster relief (HADR) capabilities brought to bear by Rushmore.

USS Rushmore which is on a six day visit is scheduled to depart the island on 26 December.