Renews call for countrywide lockdown
Calls for establishment of national fund for disaster management
---
By Asiri Fernando
---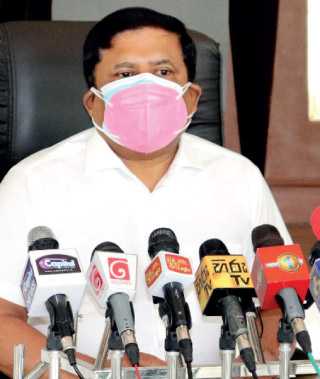 UNP Chairman Vajira Abeywardena addressing the media at Sirikotha yesterday
---
The United National Party (UNP) yesterday called on the Government to provide a Rs. 25,000 high-risk allowance and a Rs. 5 million life insurance for frontline State sector employees engaged in COVID-19 related duties.

UNP Chairman and former Parliamentarian Vajira Abeywardena made the request at a press conference held at Sirikotha yesterday, adding that the Government should have broad consultations with all parties regarding the management of the COVID-19 outbreak and to discuss how best to secure funds for the proposed allowances and insurance schemes. Abeywardena also called on the Government to lock down the country for a brief period based on expert advice to reduce the transmission rate of the virus.

Addressing the media, Abeywardana urged the Government to heed the advice of subject matter experts and lockdown the country for a brief period, pointing out that the frontline medical staff had been stretched of exhaustion for weeks. He pointed out that the Government paid a high-risk allowance during the 30-year-long war and that front line medical staff today were engaged in a "war" to save the public. He urged the Government to expedite the delivery of the proposed Rs. 25,000 allowance.

Abeywardana argued that the Government could utilise existing funds to pay the premium for a life insurance scheme which would provide at least Rs. 5 million to the family of a State employee if they succumb to the COVID-19 virus.

"This would be a great relief to those workers who are working tirelessly to contain the spread of COVID-19. It will offer them some peace of mind while undertaking these high-risk duties," Abeywardena stressed.

He explained that the risk of the current third wave was discussed in Parliament before but was not taken seriously by the Government. Abeywardena argued that even though the UNP was not present in Parliament for the many debates on the COVID-19 situation over the last year, partisan politics in Parliament did not give rise to a national consensus on how best to handle the outbreak.

The UNP is yet to nominate a member to represent the single National List seat the party secured during the last General Elections.

The UNP member also highlighted that the national reserves were at a critical level and called for a broad stakeholder discussion on setting up a national reserves fund for disaster management for the future. Abeywardena argued that the low reserves limit the flexibility of the Government response during crises.

Abeywardena criticised the Government for not listening to warnings made in Parliament last year regarding preparedness and securing vaccines in adequate quantities, adding that the Government missed a valuable opportunity to amend the 150-year-old quarantine laws, which would have aided in better managing the virus outbreak at present.