Range Bandara says raid on media outlet is sign of media freedoms contracting
Claims detention, questioning of embassy staff paints Sri Lanka poorly internationally
Questions legality, motives behind CID transfers, travel bans


United National Party (UNP) yesterday raised concerns about what they saw as shrinking democratic space in Sri Lanka citing raids on a media organisation, as well as the detention and questioning of an embassy official.

UNP parliamentarians Palitha Range Bandara, and Prof. Ashu Marasinghe, addressing the press yesterday, raised concerns about the alleged detention and questioning of an embassy official by Sri Lankan law enforcement personnel, and charged that such actions by the Government sends an ominous message to the diplomatic community, and paints Sri Lanka in a negative light internationally.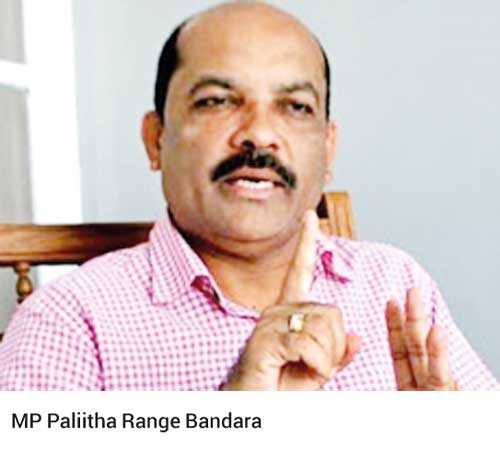 Bandara also questioned the raiding of a media organisation "NewsHub.lk" by police earlier this week. "It has only been about 10 days since President Rajapaksa took office, I have to ask those who voted for them if they are happy with the change?" he inquired, pointing out that during the 'Yahapalanaya' administration, no media outlets were raided nor journalists intimidated. "We created the environment for media freedom to thrive, you all could critique us politicians, and no harm nor pressure came to you all," he said.

He questioned why the current administration was trying to roll back checks and balances and independent institutions put in place with the 19th Amendment. "These measures were brought in to ensure good governance, this attempt to remove it is the beginning of a slippery slope towards dictatorship," he opined.

Prof. Marasinghe and Bandara both questioned the motives behind the transfer of CID Director Shani Abeysinghe. Marasinghe pointed out that Abeysinghe had been instrumental in investigating several key murder, abduction, and disappearance cases, and pointed out that he was the lead investigator of the Easter Sunday bombings. Both parliamentarians questioned the legality of the transfer of Abeysinghe, and the travel restrictions on some 700-odd CID personnel. Bandara also requested public sector employees to promptly lodge complaints at the nearest Police station, citing increasing political victimisation at workplaces. He alleged that some employees were barred from entering the Sri Lanka Petroleum Corporation and Ceypetco premises in the last few days on grounds of political affiliation. He urged public sector employees to notify their trade unions and the UNP of any intimidation or abuse, and to bring details of the police complaints lodged for further legal action.