Calls for more consciousness by police
NPC launches public complaint management system to track progress of applications
Over 3000 complaints received since NPC establishment
Speaker Karu Jayasuriya says Sri Lanka has to be a security-conscious nation with high alertness after the Easter Sunday attacks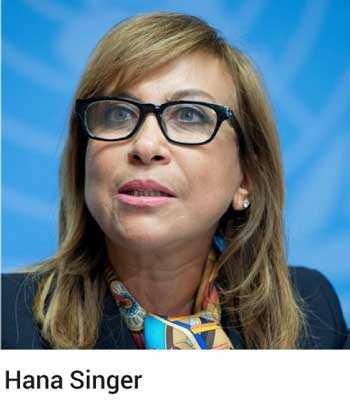 By Shanika Sriyananda

UN Resident Co-ordinator in Sri Lanka Hana Singer expressing concerns over growing incidents of hate speech in Sri Lanka, said that the UN believed police should be more conscious about the nature of hate speech and its ability to instigate violence.

"We must remember that hate speech is an attack on the values for tolerance, inclusion and diversity Sri Lankans have been so proud to hold. It undermines social cohesion and shared values and limits the progress made on peace and sustainable development," she said.

She made these remarks at the launching ceremony of the country's first-ever web-based Public Complaint Management System (PCMS) by the National Police Commission (NPC).

The PCMS is the first comprehensive information management system which will enable the public to submit their complaints via a simple web-based interface accessible via an electronic device from any location at http://www.npc.gov.lk.

The users can inquire about the status of their case using a unique reference number provided by the NPC. The new system will also significantly expedite the processing time of cases by streamlining communication between the nine provincial offices of the NPC and its headquarters in Colombo. The project was financed by the UN Peace Building Fund and implemented by the IOM Sri Lanka.

Singer said that Sri Lanka's long history of togetherness of its diverse communities could be a role model for how different people can come together to live in a beautiful mosaic.

"I think it is important to celebrate this diversity and to protect it. We must not allow the good work that has been done on reconciliation to go to waste," she said, adding that strengthening independent commissions like the NPC is critical in realising the aspirations of the peace-building priority plan in Sri Lanka, which is developed in high participation with civil society and development partners.

She said that the new system would not only restore public accountability and encourage credible, independent and professional police service but also significantly expedite the processing time of cases by streamlining the communication process between the nine provincial offices.

"This system will also methodically capture key aspects of public complaints, allowing thorough analysis and data-driven remedial measures that will help identify the successes and challenges faced by the Sri Lankan public very impressively," she said.

Singer also said that national independent institutions had played and would play a very important role in bridging the State and society in sustaining peace resolution.

"This initiative is a part of the Sri Lankan Government's commitment to fully engage with all stakeholders in efforts to build lasting peace in the country. The PCMS, a timely initiative, will serve to build the public trust and independence in State institutions. Effective, accountable and inclusive institutions are important because they show that each citizen has access to justice," she said, thanking the IOM for taking efforts to ensure that the public is better served and praying for a peaceful Sri Lanka.

Meanwhile Speaker Karu Jayasuriya said Sri Lanka has to be a security-conscious nation with high alertness after the Easter Sunday attacks because the Government has taken national security easy after 2015.

He said that the Easter Sunday disaster had also put Sri Lanka on high alert and intelligence services needed to be increased while giving more training to the officers involved in maintaining security in the country.

"Because we have taken national security easy, we had to pay a high price," Jayasuriya said, adding that in 2015, people voted for the Yahapalana Government as it had promised good governance and transparency.

"Those objectives were fulfilled with implementing the NPC, Right to Information Act and many other changes in the spheres of democratic governance. Sri Lanka is now confronted with a well-organised drug mafia and become its regional transit point for drug dealers. The entire society, including schoolchildren, are at risk due to this drug mafia. Contract killing, organised robberies and taking ransoms are on the rise. Most of those crimes have been planned and organised from prison cells," Speaker said, commending the services rendered by the police to apprehend the culprits.

Speaker Jayasuriya also said that the police needed to be commended for their dedication and commitment, but should perform their duties in a transparent manner without heeding influences from politicians or wealthy people in society.

"The Government promised to create an independent police service and the new system would add more transparency in providing a better service for the people," he said.

IOM Chief of Mission Sarat Dash said that the PCMS was a joint effort by the IOM and the NPC, and that the IOM had been engaged in various Government institutions in developing or supporting initiatives that would help improve necessary infrastructure and other development efforts to support public departments. IOM's Head of Migration Governance Shantha Kulasekara said the NPC had received over 3,000 complaints from the public since 2016.