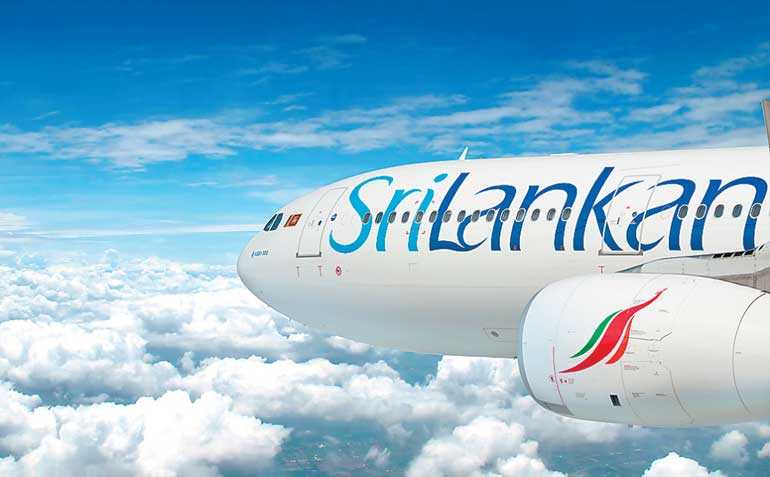 SriLankan made net losses of Rs. 93 b from 2011-2015
Commission hears ex-CEO appointed by
emergency board meeting, no application made, qualifications unknown
Chandrasena paid Rs. 1.5 m salary excluding perks, given automatic five-year extension in 2014 with 5% raise
Ex-CEO waived Rs. 16 m worth of VIP excess baggage in 2012 and 2013
Maintenance cost of ex-CEO's office Rs. 96 m, ex-Chairman's office Rs. 56 m
Commission to summon former CEO Manoj Gunawardena
By Maleesha Sulthanagoda

SriLankan Airlines incurred total losses of over Rs. 90 billion during former CEO Kapila Chandrasena's four-year tenure, a top official of the National carrier told the Presidential Commission of Inquiry (PCoI) into allegations of fraud and misconduct in SriLankan Airlines, SriLankan Catering, and Mihin Lanka on Monday.

SriLankan Airlines Company Secretary Dalrene Thirukumar, providing evidence on allowances and salaries of executive officials of the National carrier, stated that the airlines made a total net losses surpassing Rs. 93 billion between 2011 and 2015.

"During the financial year of 2011/2012, SriLankan Airlines incurred net losses of Rs. 383 million; during 2012/2013, net losses of Rs. 19 billion; and during the financial year of 2013/2014, the airline made net losses of Rs. 26 billion. The annual financial report of 2014/2015 states that the carrier suffered net losses of Rs. 32 billion, and during the financial year of 2015/2016, SriLankan made net losses of Rs. 16 billion," she said.

Secretary Thirukumar also noted that these losses were suffered during the tenure of former airline CEO Kapila Chandrasena, which began in 2011.

She also provided documents regarding the selection process for the post of CEO of SriLankan Airlines.

Chandrasena, who was a board member of SriLankan Airlines and Mihin Lanka until 2011, was appointed CEO at an emergency board meeting on 3 May 2011. Even though there was no advertisement for the position of CEO, Kapila Chandrasena was awarded the position, the Commission heard. It was also revealed upon further inquiry that, he had not applied for the position, as documents pertaining to his qualifications for the post was not found by the Company Secretary.

Thirukumar said, "Kapila Chandrasena, who was appointed as the company CEO in 2011, did not go through a proper selection process. The steps that should be followed as mentioned in the guideline manual of the airline were not followed. He was selected at an emergency board meeting,"

The Commission also queried from Thirukumar whether Kapila Chandrasena possessed sufficient qualifications for the position of CEO. She noted that as there were no documents regarding his eligibility or appointment for the office, she could not answer the question.

According to the SriLankan Airlines guideline manual, a CEO candidate must possess a Bachelors, Masters, or a relevant business-oriented degree, with more than 15 years of post-qualifying experience in the commercial aviation industry, with in-depth knowledge in commercial aviation, engineering, and airline management.

When the Presidential Commission inquired of Thirukumar whether, according to her knowledge, if Kapila Chandrasena possessed any of these qualifications, she failed to answer as relevant documents were missing or not found.

She also noted that although all the required parameters were followed when appointing Manoj Gunawardena as CEO in 2008, none of them were followed when appointing Kapila Chandrasena.

It was also mentioned in the documents provided that Kapila Chandrasena was paid Rs. 1.5 million as monthly salary, excluding other benefits during his first three years.

"Kapila Chandrasena's monthly remuneration included Rs.1.5 million in monthly salary as CEO, with full unlimited reimbursements for fuel, a car with a personal driver, club membership allowance up to Rs.24,000 per annum, job-related professional membership allowance, residential mobile and telephone bill reimbursement, and more," Thirukumar added.

The Board of Directors of SriLankan Airlines also approved a five-year contract extension for Kapila Chandrasena as CEO after his first term concluded in 2014, although no performance reviews or appraisals were conducted for the completed term. The contract extension also states a 5% increase in monthly wages with added benefits.

The documents provided by Company Secretary Thirukumar also mentioned Rs. 16 million worth of excess packages of VIPs and Commercially Important Persons (CIPs) waived by Kapila Chandrasena between 2012 and 2013, which had a significant increase compared with the previous year of 2011-2012 with only Rs. 6 million.

Documents pertaining to cost centres in relation to the CEO's office was also put forward to the commission. Cost centres are parts of organisations to which costs may be charged for accounting purposes.

"The total of CEO's office cost centre during the financial year of 2011/2012 was Rs. 13 million. During the financial year of 2012/2013, the CEO office cost centre was Rs. 29 million. Accounting reports show that during 2013/2014, the CEO office cost centre was Rs. 28 million. During 2014/2015, it was Rs. 26 million," Thirukumar added.

The evidence provided also gave information on the salaries and allowances issued to the personnel of former SriLankan Airline Chairman Nishantha Wickremasinghe's office.

"The Chairman's office maintenance cost during 2010/2011 was Rs. 4.75 million. During 2011/2012, it was Rs. 12.73 million. During the financial year of 2012/2013, it was Rs. 17.91 million. The maintenance cost of the Chairman's office during 2013/2014 was Rs. 22.79 million," she concluded.

Nishantha Wickremasinghe, who was appointed as SriLankan Airlines Chairman in 2008, remained in office until 2015. The Commission noted that after Kapila Chandrasena was appointed CEO of SriLankan, the losses incurred by the national carrier went up, along with employee maintenance costs of both the Chairman's office and the CEO's office.

PCoI Chairperson Anil Gooneratne also informed officials from the Attorney General's department that the former CEO of SriLankan Airlines Manoj Gunawardena should be summoned before the Commission. Gunawardena served as the airline's CEO from 2008 to 2010 and was awarded a contract extension.

Thirukumar said that former SriLankan Chairman Nishantha Wickremasinghe had notified the Board of Directors about Gunawardena's resignation from his post in 2011, although no such request was filed by Gunawardena in that year.

Manoj Gunawardena was later awarded the position of Promotions Director of Europe which was based in London with a basic salary of £ 8,400 per month. In 2016, he was appointed to the new post of Regional Head of Europe and North America with an all-inclusive wage of £ 14,500.

The PCoI is also set to summon Darshani Tissera, who headed a committee which investigated alleged sexual harassment of an Indian employee of the airline by the former Regional Manager of India Lalith de Silva.