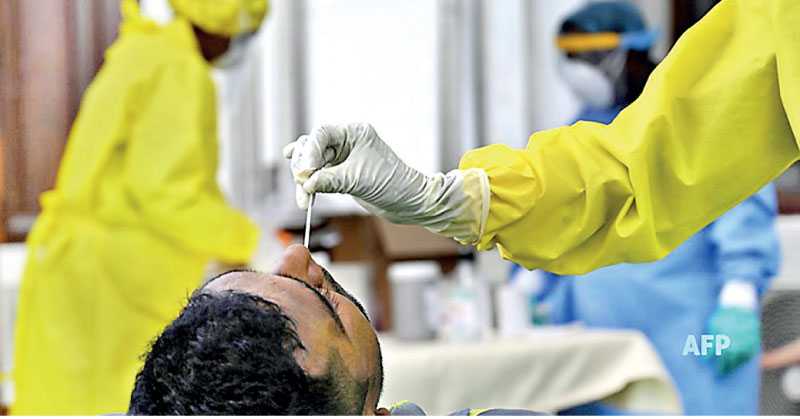 ---
770 persons test positive for COVID-19, clusters rise to 51,329 patients
Total count includes 7,700 active patients
Highest number of daily PCR tests performed on Tuesday
10 Health Ministry staff members infected, examinations department temporarily closed
---
By Shailendree Wickrama Adittiya
---
The total number of COVID-19 positive persons in Sri Lanka crossed 55,000 with the detection of 770 patients yesterday.

According to the Department of Government Information, 768 associates of the Peliyagoda COVID-19 cluster tested positive for the virus yesterday, bringing the triple clusters that emerged from Divulapitiya, Peliyagoda, and Prisons to 51,329 patients.

In addition to the triple clusters, 950 Navy personnel and their contacts and 651 persons linked to the Kandakadu Treatment and Rehabilitation Centre from currently inactive clusters are among the country's total patient count. According to the Epidemiology Unit, the imported cases include 1,800 Sri Lankan returnees from abroad and 144 foreigners.

A total of 55,189 COVID-19 patients have been identified in the island to date and this includes 20,984 persons from Colombo, 11,329 persons from Gampaha, 3,748 persons from Kalutara, 2,008 persons from Kandy, and 1,012 persons from Galle.

The district distribution of patients takes into account the 669 COVID-19 patients detected on Tuesday, of which 130 were from Colombo, 104 were from Gampaha, 60 were from Kurunegala, 50 were from Galle, and 48 were from Kandy.

According to the Epidemiology Unit, 7,700 persons are currently under medical care at various treatment centres. This includes 680 persons at the Punani Treatment Centre, 444 persons at the Kopai Treatment Centre, and 414 persons at the Neville Fernando Teaching Hospital. Hospitals are also monitoring 688 persons suspected of having COVID-19.

During a media briefing yesterday, Health Services Deputy Director General Dr. Hemantha Herath said: "At present, 9,239 beds in 75 treatment centres are in use for the treatment of patients. In ICUs, 25 beds are in use. In the last 24 hours, 18,702 PCR tests were carried out. I believe this can be considered a day with the highest number of PCR tests carried out."

According to the Health Promotion Bureau, a total of 1,522,237 PCR tests have been performed to date.

Addressing reports on COVID-19 patients detected from the Health Ministry, Dr. Herath said this was not the first time Health Ministry staff members tested positive for the virus. While the management of patients was carried out efficiently during previous instances, he explained that contact tracing was carried out efficiently this time as well.

"A few infected persons from a particular unit of the Health Ministry had gone back to their homes. However, the units informed us of this and those who were at home stayed back despite displaying symptoms but those who returned to work were subjected to rapid antigen tests and four patients were detected on the first day," Dr. Herath said.

He went on to add that 10 COVID-19 patients have been detected from the Ministry as of now, of which seven are from the examination unit. The unit has been temporarily closed and exams have been postponed.

The remaining three patients were detected from three different units, which are now operating as usual. Dr. Herath explained that the detection of patients did not cause any disruptions to Health Ministry operations.

In terms of recoveries, the Epidemiology Unit states that 47,215 persons have recovered from COVID-19 to date. This includes 42 persons from the Kahawatte Treatment Centre, 39 persons from the Punani Treatment Centre, and 33 persons from the Polgolla Treatment Centre discharged yesterday. Meanwhile, Police Spokesperson DIG Ajith Rohana yesterday said a total of 14 persons, including one yesterday, have fled COVID-19 treatment centres to date.

---