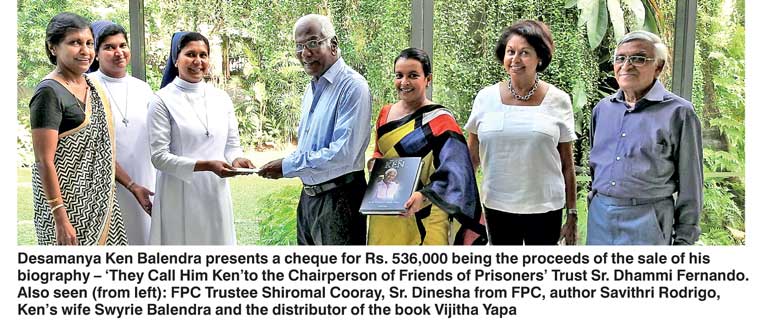 John Keells Holdings Former Chairman Desamanya Ken Balendra who saw the release of his biography – 'They Call Him Ken' – written by Savithri Rodrigo in September this year, presented the proceeds of the books sold thus far to the designated charity, Friends of Prisoners' Children (FPC) Trust.

A total of Rs. 536,000 was presented to FPC Chairperson Sr. Dhammi Fernando, collated from the proceeds of the sale of books and generous donations towards the cause resulting from reading the book from friends and relatives, including Past President of Rotary International K.R. Ravindran and Chairman of Renuka Hotels Ravi Thambiayah. It is pertinent to note that both Ken Balendra and Savithri Rodrigo unanimously agreed to donate all proceeds of the book, which was distributed by renowned publisher and distributor Vijitha Yapa, to a designated charity.The FPC Trust founded in 2006 by Sr. Immaculate De Alwis primarily presents scholarships to children of prisoners who are incarcerated for long terms at the Welikada prison, to continue their education. Totally operated on donations received by well-wishers, the Trust disburses Rs. 18,000 annually to the high achieving scholars sustaining these scholarships until their A/Levels via a savings book monitored by the school principal. These scholarships not only help sustain the education of prisoners' children who are most often ostracised by family, relatives and their community, which almost feels like a prison term for them as well, but also significantly reduces the drop-out rate from school.

The success of this program, which encourages the children to remain in school and also grow up to be good citizens is well evidenced in some unique triumphs including students being among the top percentage in the country for the Grade Five Scholarship, O/Level and A/Level examinations and gaining entrance into university and professional examinations.