Says SLPP presidential candidate has capacity to be a strong President
MR blames Govt. for ineffective leadership
GR pledges to create national policies to assist exporters
By Nuwan Senarathna

The Executive Presidency is still a powerful position despite the 19th Amendment, Opposition Leader Mahinda Rajapaksa said yesterday insisting they have picked the candidate who can make the most of that power to deliver effective leadership to develop the country.

Addressing the Sri Lanka Podujana Peramuna (SLPP) meeting with smallholder exporters at Sri Lanka Exhibition and Convention Centre (SLECC), Rajapaksa said an individual with willingness and dedication could lead the country forward and would not be deterred by his powers being trimmed by the Constitution.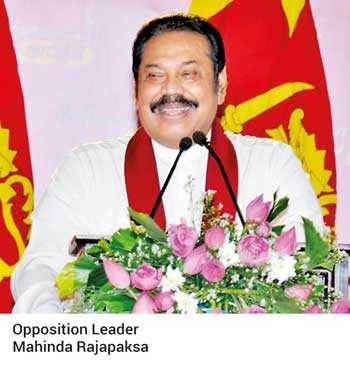 "Our presidential candidate Gotabaya Rajapaksa has shown he is cable of developing the country. It is enough to judge his capability based on what he has done during his time as the Defence Secretary. Therefore, I do not think we have to worry about his ability to develop the country even under changed circumstances," he said.

He pointed out that the country needs a leader with the capability to guide the country to prosperity. According to Rajapaksa, the SLPP presidential candidate Gotabaya Rajapaksa has the right qualities to guide the country to prosperity as he has shown his capabilities as defence secretary under his Government.

Rajapaksa noted the incumbent Government was unable to deliver their promises and as a result the country was struggling economically. "This Government is only capable of leasing out public property to foreign nations. But how can a Government elected for five years lease out public properties for 99 years? This will affect several generations."

He called on the public to elect the SLPP presidential candidate to prevent privatising of State assets and pledged to use State assets to develop the nation.

Addressing the event, SLPP presidential candidate Gotabaya Rajapaksa said under his leadership he would create a business-friendly environment in the country. He noted the Government has the responsibility to protect exporters and create more opportunities for the local business community.

"I believe it is the Government's responsibility to create a market for the local exporter and local agricultural products. It is the Government's responsibility to introduce new technology for the local producers to meet international standards," Gotabaya Rajapaksa said.

He noted the importance of a national policy for agriculture and smallholder exporters and said a policy framework will be introduced under a SLPP Government. Rajapaksa said the strong policy framework will pave the way to address challenges of smallholder exporters.

Pic by Lasantha Kumara