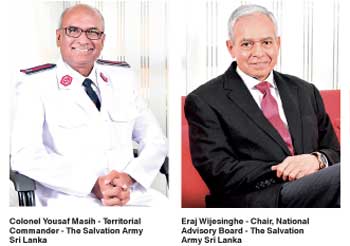 The Salvation Army, one of the world's largest not-for-profit organisations, has appointed a National Advisory Board to help guide its operations in Sri Lanka.

Eraj Wijesinghe, Head of the Bartleet Group of companies, has accepted the Chair position. Other members are Lilamani Benson, Russell de Mel, Sharadha de Saram, Suresh Murugaser, Dinal Philips PC, Savithri Rodrigo and Tony Senewiratne.

Wijesinghe said the Board has a specific brief to fulfil and will provide strategic advice to The Salvation Army in Sri Lanka. Colonel Yousaf Masih, Territorial Commander for Sri Lanka, Lieutenant-Colonel Suresh Pawar, Chief Secretary, and Major Peter McGuigan, Communications Secretary, are The Salvation Army's appointed Board representatives.

"The Salvation Army's operations in Sri Lanka are extensive and transform the lives and circumstances of thousands of Sri Lankans every year," said Wijesinghe. "In a very real sense, The Salvation Army has grown up in the modern era with Sri Lanka, giving continuous, unbroken service to the country since 1883 – always striving for the greater good of the country."

"It is now seeking to change its style of operation," Wijesinghe explained, "by adding strong domestic partnerships to a longstanding list of partnerships from within The Salvation Army internationally. The aim is to extend and diversify its services. In effect, The Salvation Army is opening its windows and doors and saying to Sri Lanka. "We want to do this with you. We can achieve much more together than we ever can working on our own, or in isolation."

Colonel Masih said The Salvation Army's new Advisory Board will help its leadership, front-line officers, members and staff across all areas of operation. Currently, the group's work in Sri Lanka includes kidney disease screening programs, building large-scale 'safe water' community wells, livelihood development programs that help families and communities work towards self-reliance, extensive children's and young adults' services, disaster relief services, elders services, feeding and foster care programs, and a low-cost professional physiotherapy unit.

The Salvation Army also operates more than 40 church and community centres across the country, that provide year-round individual, family and community support to Sri Lankans from diverse backgrounds. Its Colombo 2 headquarters is something of a city landmark, wedged between Union Place and Sir James Peiris Mawatha and passed by thousands of commuters every day.