UNP Working Group to meet today
Hints at fresh discussion on General Sec. of proposed coalition
Heart symbol out of the contest, Elephant or Swan to be considered
Insists no internal clash over symbol
By Nuwan Senarathna

The United National Party (UNP) Working Committee will meet today to finalise the symbol of the proposed coalition which is to be led by Opposition Leader Sajith Premadasa for the forthcoming General Election, MP Palitha Range Bandara said yesterday.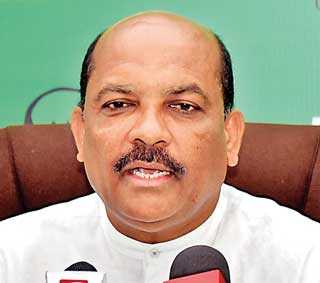 MP Palitha Range Bandara
Since last week, the UNP has been discussing whether to contest under the Swan symbol or the Elephant symbol. Meanwhile a group calling itself the Patriotic United National Party (PUNP) submitted an application to the Election Commission seeking registration of the Heart as their symbol.

Speaking to media at the Sirikotha, Bandara said the final decision on the symbol and key position of the proposed coalition would be taken today at the Working Committee meeting. He added that the meeting would finalise the basic structure of the proposed coalition.

"The Working Committee will finalise the symbol of the proposed coalition. There will be only two symbols taken into consideration – the Swan and Elephant. Since the deadline has been passed there is no chance of contesting under the Heart symbol," he added.

Bandara expressed his confidence of forming a strong coalition to contest the upcoming General Election. He also said the party would take the best decision to appoint the most suitable individuals to the key positions of the coalition.

He hinted that there may be fresh discussions over the position of the General Secretary of the proposed coalition and insisted an experienced individual would be needed to hold such position to contest a General Election. However, the faction loyal to Sajith Premadasa earlier proposed MP Ranjith Maddumabandara as the General Secretary of the proposed coalition.

"The UNP is stronger than ever and we have talented individuals who are capable of winning the General Election and form a government. This Government has failed to deliver its election promises and people are unhappy with the Government, which has opened a good chance to for us."

Responding to a question on having separate media briefings at Sirikotha and at the Opposition Leader's Office, Bandara insisted there were no two factions of the party and the party decided to conduct several media briefings to express their view on the Government's decisions.

"The Government was unable to keep its promises. During the election, the President promised to provide fertiliser for free. However, today there is a shortage of fertiliser, which has put farmers in a difficult situation," he said.