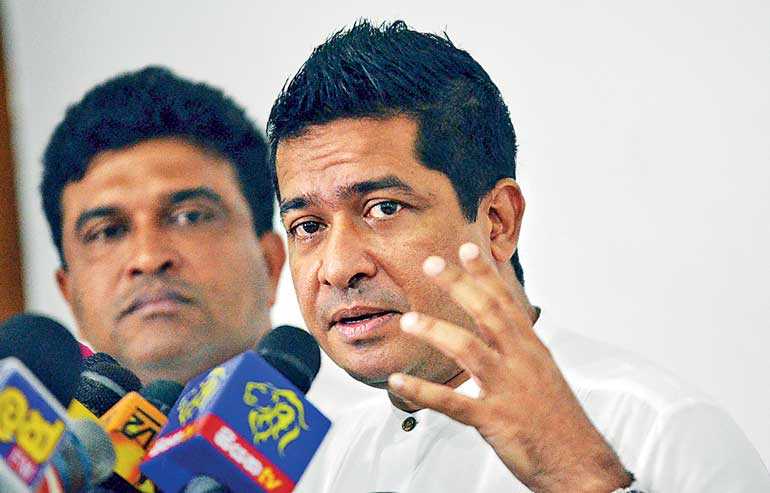 By Chathuri Dissanayake

The political crisis brewing in the country deepened yesterday as the tussle between President Maithripala Sirisena and Prime Minister Ranil Wickremesinghe took another turn, with the latter resisting moves to remove him from his official residence to make way for the newly-appointed Premier former president Mahinda Rajapaksa.

Wickremesinghe held onto Temple Trees, with United National Party supporters freely moving about while UNP MPs took turns addressing the media, setting up a makeshift media room in Temple Trees in a bid to show strength and support to their leader. Meanwhile, the Sri Lanka Podujana Peramuna held its own media conference at the Office of the Prime Minister along Flower Road.

The MPs, showing support to Wickremesinghe, were confident of mustering the numbers in the event of showing confidence in Parliament.

"We have estimated about 115 members to be supporting us after three or four possible defections," claimed MP MP Sujeewa Senasinghe.

"There will also be people coming in from that side," he claimed, adding that although "MP-buying has started, the majority of the UNP members will not go."

He was confident that despite the misgivings some members may harbour, they would remain loyal to the party. Senasinghe was also confident that both the Tamil National Alliance and Janatha Vimukthi Peramuna would support the party which would uphold democracy in the country.

Calling the move by Sirisena to oust sitting Prime Minister Wickremesinghe and install Rajapaksa a political coup, Senasinghe said the President was infringing the democratic rights of the citizens of the country.

"No matter what your political affiliations are, if you support this undemocratic vote, know that this illegal move would be the end of democratic freedoms in this country," he claimed, calling the move by the President unconstitutional.

"The rights of the people have been violated by the highest echelons of the country, the President. The sovereignty of the people is decided through the vote of the people and this has been compromised by the actions of the President."

Lamenting the undoing of achievements to establish democracy in the country, Senasinghe said that they were ready to face any confidence test in Parliament, calling the President to reconvene the House as soon as possible.

When asked what the UNP intended to do if Sirisena did not heed the call, the MP said they had alternative plans but refused to elaborate.

"We will repeat our request, but if all fails we have plans," he said.

Senasinghe also insisted that they still function in their portfolios as Ministers and Deputy Ministers despite President Sirisena's announcement of plans to appoint a new Cabinet.

Speaking at the same media briefing, UNP member and former Law and Order Deputy Minister Nalin Bandara claimed that the President's assassination plot now under investigation by the Police was also a scripted performance to pave the way for the coup.

"I am aware of the details of the investigation and we now see that it was a scripted setup," he said.