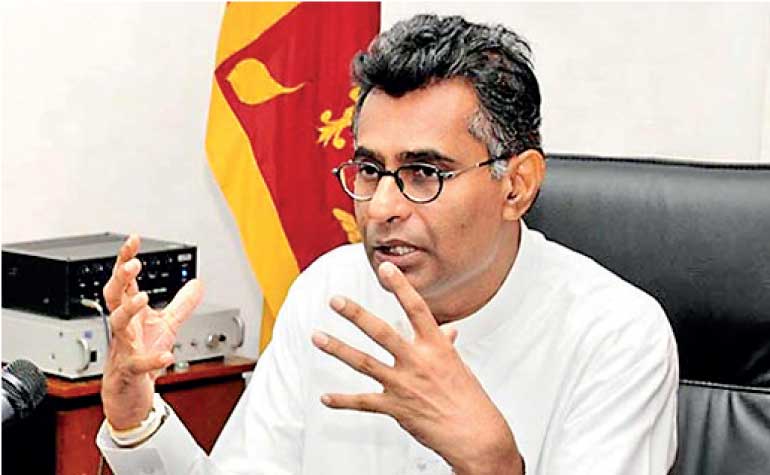 Megapolis and Western Development Minister Patali Champika Ranawaka
Over 500 projects in two years
Says no 'iron boot' and intimidation for urban development projects
Says army engaged in disaster management assistance, not cheap labour
By Skandha Gunasekara

Commending the Yahapalanaya Government's development efforts, Megapolis and Western Development Minister Patali Champika Ranawaka lashed out at the former regime and its "iron boots" tactic of utilising the armed forces in civilian matters.

Taking part in yesterday's Committee Stage debate on the expenditure head coming under his subject ministry, the Minister remarked that unlike the previous administration that had carried out a development drive through heavy loan-taking, the current Government facilitated development through private sector direct investments.

"Nearly 500 development projects across the island have been completed in the last two years. Special attention was paid to ensure that all these projects had positive Environmental Impact reports, Social Evaluation reports and had followed proper tender procedures," the Minister said, adding that this Government had strengthened future generations instead of burying them in a financial crisis.

During the first six months of 2017, GDP growth was 3.9% while development in the construction sector was 12.8%, the Minister said.

"If not for the revolution we created in the development field, GDP could have easily dropped another digit. However, I do admit that there was development in the construction field during the previous regime, but that was totally based on borrowing, which put a huge debt burden on the country. Instead of credit capital now development is forging ahead through equity capital," Minister Ranawaka noted.

He then condemned former Defence Secretary Gotabaya Rajapaksa and his use of the armed forces, both as a cheap labour force and a means to instil fear amongst the masses.

"Some said that we will need Gota and his methods of using the army. But our Government has been able to do the same things without the use of force or embarrassing our war heroes. We relocated 6,000 people without using the iron boot and intimidating people. No white vans anymore. Unlike before, the army isn't used to for construction work and to collect garbage," he said, while pointing out that the army had been engaged in far more important activities such as assisting disaster management operations.