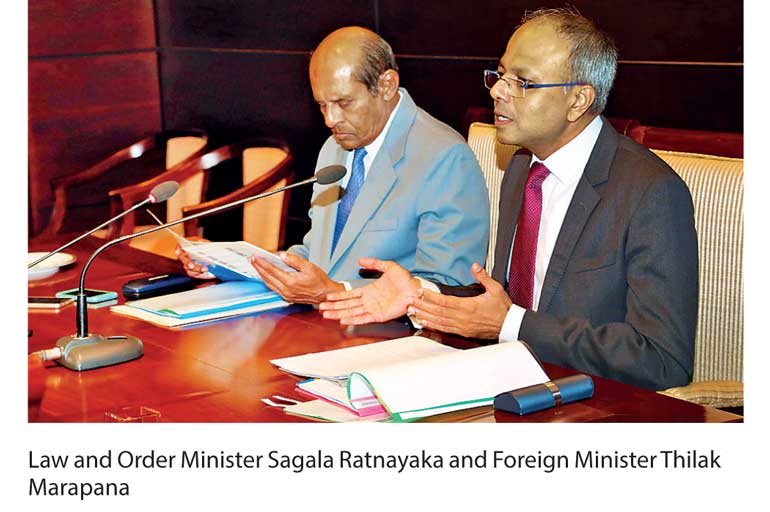 Sri Lanka is working with international agencies to combat drug trafficking
Sri Lanka will discuss strategies of combating drug smuggling during the Indian Ocean Conference 2017 set to kick off tomorrow, Law and Order Minister Sagala Ratnayaka said yesterday.

"For Sri Lanka drugs is one of the main issues. Sri Lanka is a transit point for mass scale drug dealing. We have discussed this earlier at the SAARC ministers meeting; further Interpol has had sessions regarding this during the last two weeks. We hope to carry the dialogue forward. We have a responsibly in the region and also to the world to try and stop this. There will be more concerns as we are a major route," he said.

Sri Lanka has always been a transit point for drug smuggling, the Minister stressed, adding that the LTTE was involved in drug and arms smuggling during the conflict period.

"Even after the war, world drug cartels still operate and Sri Lanka is strategically located where it is favourable for transiting," he explained.

The Minister said there are local concerns as a portion of the drugs remain in Sri Lanka as well.

"There are two angles to it; one is our responsibility to the world to fight this drug menace, and also to ensure there are no drugs in Sri Lanka. We are working very closely with countries in the region to do this, and also started a new police range; that is we have upgraded our capacity," he said.

Apart from addressing the drug smuggling through ocean routes, the conference is expected to discuss issues under the theme 'Peace, Progress and Prosperity'.

The conference, organised by the India Foundation, will be conducted with the participation of Prime Minister Ranil Wickremesinghe's, he revealed. Representatives from 32 countries, including the foreign ministers of India, Indonesia and Nepal, the Japanese Deputy Foreign Minister and Acting US Assistant Secretary of State Alice Wells will take part in the summit, Foreign Minister Thilak Marapana told the media.