Energy Minister Udaya Gammanpila has said that the current crisis in Sri Lanka is more dangerous than LTTE terrorism. The Minister also stated that at present diesel is only available in Sri Lanka for 4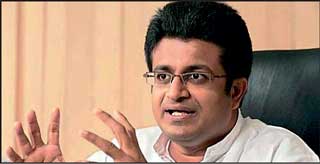 Energy Minister Udaya Gammanpila
days.

The Minister said that there are 22,000 metric tons of diesel in the country at present and another ship carrying a consignment of diesel is scheduled to arrive today.

The Minister said that the queues for fuel in the country have been created due to the people consuming more fuel than usual and as a result a maximum of 5,000 metric tons of diesel is being issued per day. That amount will have to be limited to 3,000 metric tons in the future, Gammanpila said.

The Minister giving a special statement to the media said although there will be a relief period from late March to late April, as fuel and medicines can be obtained with Indian credit facilities, the government has to repay the loans within a year, he said.

The Minister said that if the government does not come forward and provide relief for fuel imports or remove the taxes imposed on oil and if it is not possible to obtain loans from banks, continuing oil imports in the future will be a problem and if anyone can propose a mechanism to provide fuel without such concessions, he is ready to implement such a system

The Minister said that the root cause of all this was the shortage of dollars and restrictions on unnecessary imports should be curtailed as well as obtaining credit facilities. He added that imports of 600 non-essential items such as drinking water, apples and grapes should be restricted.