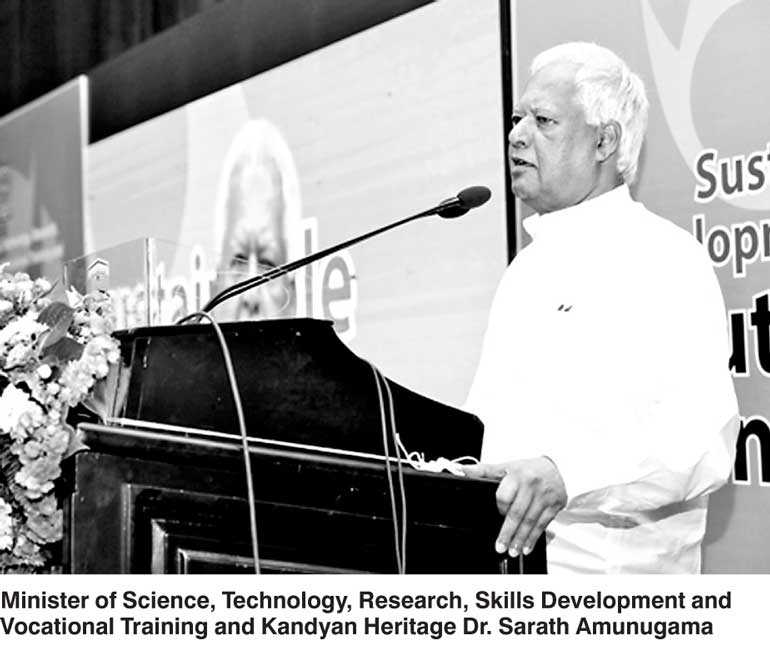 The World Youth Skills Development Day falling on 15 July was celebrated at a ceremony presided over by Minister of Science, Technology, Research, Skills Development and Vocational Training and Kandyan Heritage Dr. Sarath Amunugama, at the BMICH on 17 July. This day was named by the United Nations, on a proposal made by Sri Lanka, and is celebrated by all member nations of the UN. This year's theme of the celebrations was 'Sustainable development through youth skills and innovation'. The ceremony was attended by officials of both the state sector and the non-state sector and a large number of students.

Addressing the gathering the Minister said:

" The United Nations has proclaimed today as the World Skills Development Day. Sri Lanka was also party to that UN decision. Meetings like this are being held all over the world today. There is a special reason for such a proposal to have been made and for the global community to have accepted it.

The future of not only this country but of the whole world will be decided by the likes of you, the young people present here today. Today, we live in an advanced world. Technology has advanced. Concepts have advanced. Everyone accepts that it is our duty to ensure a just society and a fair existence to the youth of the country.

There are many good features to be seen when you look at the youth of Sri Lanka. When you look at the world, especially among the developing countries, we have a good system of education. There are many countries where education for women is inadequate. However in our country everyone, both males and females get a good education. We also have a good system of health care and a social security network. After independence the people of this country have made a tremendous sacrifice, setting apart a considerable part of the national income to establish and maintain this system of education, of healthcare and the social security network. It is as a result of that sacrifice that we have today before us a good, clever and capable young generation like you.

Then, how are we to discharge our responsibility of creating an environment that will ensure for you reasonable employment and a good life. That is the biggest challenge before the country. Some people may think our biggest challenge is a political one or an economic one and some others, a social one. However one thing that we can all agree on is that we have this challenge of ensuring for our young people who have so many capabilities, who enjoy such good health, and who have had a good education, the jobs they are entitled to and the good life that they deserve. That is the most important challenge before us.

We cannot find an answer to that question through the traditional system of education. Of course there is a good side to that system. There are competent and devoted teachers and all that. However the stark social reality is that through that system alone we cannot hope to bring forth a young generation capable of facing the challenges of the modern world fully.

All of you are quite qualified to go in for higher education. However ours is not a system oriented towards education in the sciences. Our system of education is not one oriented towards employment. That is why we are trying to change it. Now, you are a group that has got out of that path and is committed go towards a scientific society. The future of this country lies in creating a science oriented culture. Our ancient culture is good. It is part and parcel of our life. But we cannot go towards the future with it unless a science oriented community like you is created in this country. That was the past. You are the future.

Today's problem is that we have not given sufficient emphasis to science education. We have about 10,000 schools in all, but science is taught only in about 1,000. If that is so how can we establish a science culture? It is you who can do it. You can go forward through our skills development programme and contribute towards creating a scientific culture in this country. You can create a skills oriented culture in this country. If such a skills oriented culture is not created we cannot create a culture oriented towards economic progress in this country. Without such skills we cannot create either an agriculturally or industrially advanced country.

Now through this NVQ system there is an alternative to the traditional system of education.You have followed that system up to the GCE O/L. Now, from NVQ levels 2 to 7 there is a valuable course of studies and training parallel to the traditional education system. As someone who had followed the traditional system of higher education I say that your NVQ system is as good as that system. We cannot develop this county without both.



We must develop this NVQ system of training and education. We must optimise the resources committed to it, whether they be financial resources or resources of other kinds, like teachers. As a developing country we cannot afford to waste resources.

We must make available a training in skills that is required by the world of work. What are those areas of training? We have the IT field, we have the building construction field. We have the field of tourism and hospitality. There is also the field of health care. There are many such fields from which there is demand for well-trained manpower. There are 200,000 vacancies in the industrial sector and another 200,000 in the tourism sector. I was at one time the Minister of Finance and at another, the Minister of Investment Promotion. Many prospective investors come to set up IT centres here. However we cannot provide the personnel required, due to deficiencies in our education. We have not paid attention to the teaching of foreign languages. Therefore the prospective investors go to countries like the Philippines. I must tell you that if we add foreign language teaching to our curricula, in the next five to six years you will be able to find good employment not only in this country but in countries like Japan, China and Europe as well. We must give you such an education. That is our duty. So we will give you the subject knowledge, language knowledge and IT knowledge. We will give you all three.

I intend to start a Job Bank – a job fair, from next week. We will place the data concerning all the students passing out of our institutions, in a computer data base. Then we will be able to give to prospective employers all your particulars immediately. Any prospective employer will be able to recruit the skilled personnel he needs through our Job Bank.

I give you the promise on this international day that through all these reforms, we will create an environment that will eliminate the gap between our training and the world of work.

I invite you all to join hands with us to make this a forward looking and important country, through the scientific and technological culture that we will jointly create. I wish you all success."