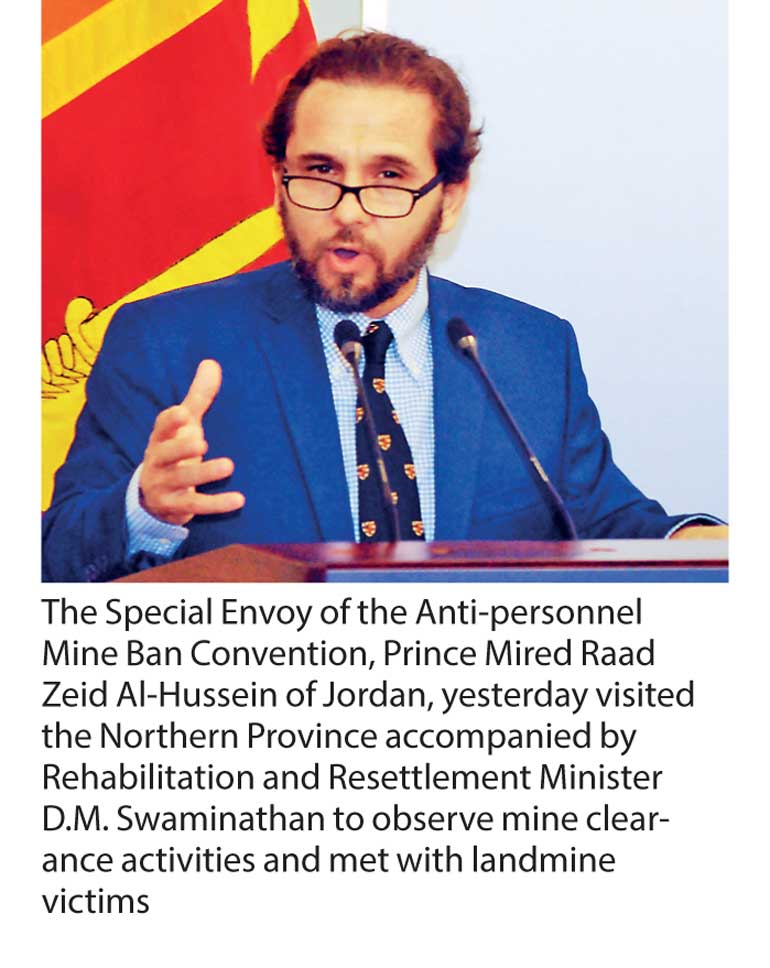 Says Sri Lanka can lead the way in the region with its experience
Special envoy Zeid Al-Hussein calls on President and Foreign Minister to campaign for convention with Nepal
By Chathuri Dissanayake

With its broad experiencein demining activities, Sri Lanka can take a leadrole in the region in the campaign to ban anti-personnel mines, Anti-personnel Mine Ban Convention Special Envoy Prince Mired Raad Zeid Al-Hussein of Jordan said yesterday.

"Sri Lanka can be a leader for many reasons. First, thanks to its political savviness by acceding, Sri Lanka is demonstrating that adopting the convention does not go counter to the State's national security needs. Secondly, the manner in which Sri Lanka is implementing its mine clearance interventions with a clear strategy and the necessary national ownership to see it through. Thirdly, because by joining, Sri Lanka understands that cooperation and assistance is more than just a sentence in the textbook of the convention," he said, speaking at the Lakshman Kadirgamar Centre auditorium yesterday.

"Sri Lanka's moral and technical leadership can be a catalyst for other states in the region that remain outside the treaty to work towards accession."

Prince Al-Hussein, who is visiting the country on the invitation of the Sri Lankan Government, called on President Maithripala Sirisena and Foreign Minister Tilak Marapana to promote the convention with countries in the region, particularly Nepal, which is already complying with a number of clauses within the convention.

"We count on Sri Lanka to do its part in promoting this global instrument in this region," he said.

Prince Al-Hussein, who also visited the Northern Province accompanied by Rehabilitation and Resettlement Minister D.M. Swaminathan to observe mine clearance activities and met with landmine victims, complimented the efforts taken to provide assistance to landmine victims under the Convention on the Rights of Persons with Disabilities (CRPD).

"Being party to both conventions will enable Sri Lanka to benefit from used synergies to integrate efforts to meet obligations under both conventions. Implementing obligations under both conventions can only result in gains for Sri Lanka. This is a golden opportunity for the country to advance in its Sustainable Development Goals related to health, wellbeing and gender," he said.

He added that Sri Lanka could benefit from the assistance given to states that had acceded to the convention to assist victims through various programs.

"Support does not come automatically. But countries like Sri Lanka which show ownership and serious commitment to the issues are the ones more likely to receive assistance from donor communities and state parties that are in a position to provide support," he said.