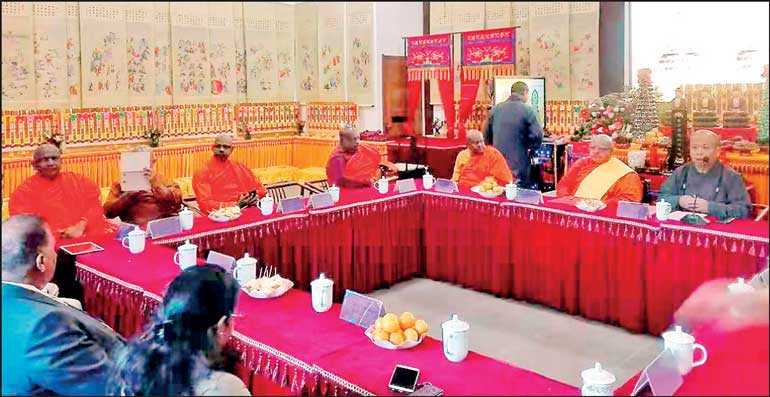 ---
The Agreement for the Establishment of a Friendly Temple Relationship between the Shentong Temple of Shandong Province of China and the Bodhi Raja Viharaya of Thalpitiya, Wadduwa, in Sri Lanka was signed in Shandong on 29 October between Abbot of Shentong Temple Ven. Jie Kong, and Anunayake of the Kotte Sri Kalyani Samagri Maha Sanga Sabha and Chief Incumbent of the Bodhi Raja Viharaya Ven. Prof. Kotapitiye Rahula Thero, with the participation of a number of venerable chief incumbent theros of temples in the Wadduwa and Panadura areas.

Both temples agreed to actively promote co-operation between them and work together to strengthen exchanges and co-operation in the fields of dhamma propagation, cultural exchanges, and social charity. Further, they agreed to strive to build a long-term effective communication and co-operation mechanism and promote cultural exchanges between Buddhists in China and Sri Lanka.

Gracing the ceremony, Ambassador of Sri Lanka to China Karunasena Kodituwakku appreciated the attempts of both temples to set up such friendly relations to enhance cultural exchanges and people-to-people co-operation. Recalling the long history of Buddhist relations and exchanges between the two countries, he further highlighted the importance of all types of co-operation and assured the Embassy's continued support to such co-operation which will benefit both countries.

The Embassy of Sri Lanka has initiated a number of cultural co-operation initiatives between Sri Lanka and China, with a similar MoU having been signed last year between the Monaragala District in Sri Lanka and the Jishan region in China (claimed to be the birth place of Rev. Faxian who visited Sri Lanka during the fifth century to learn Buddhism). In 2017, a 60-acre Jujube garden also was opened in Ven. Faxian's hometown named 'China-Sri Lanka Friendship Jishan Jujube Orchard' with the participation of the Ambassador of Sri Lanka to commemorate the cordial Buddhist relations between the two countries.