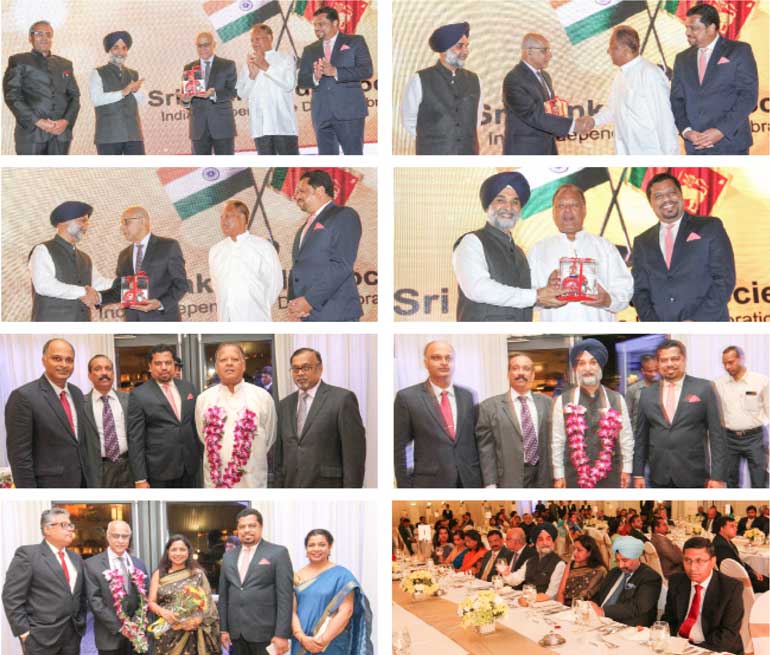 Sri Lanka India Society held their 70th Indian Independence Day celebrations recently amidst a distinguished gathering of invitees on the North Lawn of the Taj Samudra. Minister of Special Assignments Dr. Sarath Amunugama was the Chief Guest, while the Guest of Honour was Taranjit Singh Sandhu, the High Commissioner for India in Sri Lanka.

Suboroto Bagchi, India's best-selling business author and much-admired entrepreneur who co-founded Mindtree, a $ 500 million global IT service company with over 15,000 employees, was the keynote speaker.

In his speech, Dr. Sarath Amunugama recalled the deep ties of a historic legacy shared commonly by the two countries, laying emphasis on the similarities between the two national anthems. He evoked many interesting anecdotes that signified the strong relationship between India and Sri Lanka, that took place during his lengthy political career.



Addressing the audience, High Commissioner for India in Sri Lanka, Taranjit Singh Sandhu said that the India of 2017 was very different from India a decade ago; with 50% of its population under 25 years, India is unleashing the forces of innovation, enterprise and growth. He also stressed upon the close links between the two countries in recent history with momentous visits made by the respective leaders and the initiatives undertaken in economic and political spheres, including humanitarian assistance in times of need. He encouraged nationals of both countries to work together in harmony, quoting Mahatma Gandhi.

In his keynote address, Subroto Bagchi outlined the exceptional leadership qualities displayed by historic figures such as Moses, William Wallace and Mahatma Gandhi throughout the centuries, accentuating on the relevance of such qualities in the 21st century as well.

Cultural performances added colour to the event which was sponsored by the State Bank of India in Sri Lanka and LIC (Lanka) Ltd.

With a rich legacy of commitment towards strengthening the relationship between the two nations for over 68 years, Sri Lanka India Society counts a membership that is testimony to its unique role. It continues to work towards greater harmony and unity between Sri Lankans and Indians.