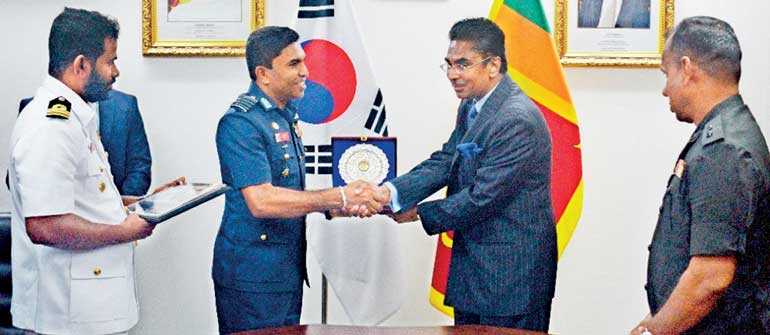 Sapugaskanda Staff College Defence delegation Leader Group Captain N.H.N. Dias presenting a memento to Ambassador Dr. Mendis after his presentation to the delegation at the Embassy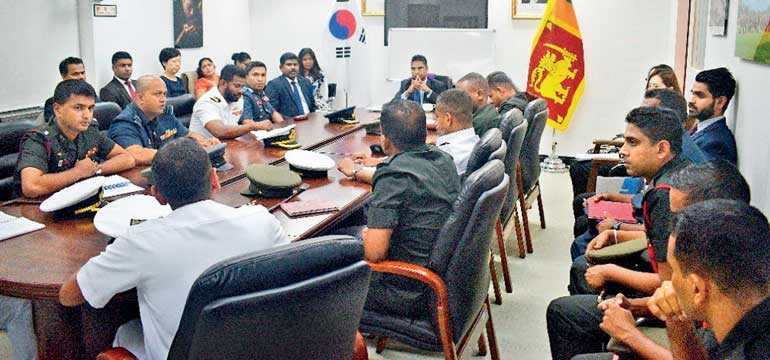 Dr. Mendis delivering a presentation/lecture on current geo-political, geo-strategic and geo-economic developments in the world and the future global order to the Defence delegation at the Embassy
A 15-member senior Defence Delegation from Defence Services Command and Staff College of Sapugaskanda visited Republic of Korea for a two-week familiarisation and educational program in early September, which was coordinated and organised by the Embassy of Sri Lanka in the Republic of Korea in close association with the Ministry of National Defense of Korea.

The delegation consisted of faculty members of Sapugaskanda Staff College and senior Flag-level officers from the three Forces of Sri Lanka. The 15-member delegation was led by Group Captain N.H.N. Dias. This was the second occasion that a Defence delegation from Sri Lanka visited the Republic of Korea on a similar interactive program.

The Defence delegation, consisting of guests, called on the Embassy of Sri Lanka in Seoul to be briefed of the current developments and dynamics in the region as well as in the world, as a segment of their familiarisation and educational program.

Ambassador-designate of Sri Lanka Dr. A. Saj U. Mendis delivered a comprehensive lecture/briefing encompassing and delineating the current geo-political, geo-strategic and geo-economic developments in the world and the future global order to the Defence delegation.

During the two-hour lecture, Ambassador Dr. Mendis enunciated the major and seminal events, which had moulded and shaped the geo-political and geo-economic order of the world today. The delegation was also extended over 45-minutes for question and answer session including comments, clarifications and observations.

The session was attended by the entire diplomatic staff and other senior officers of the Embassy as well. Delegation Leader Group Captain Dias presented mementoes and plaques to Dr. Mendis and to Head of Chancery and First Secretary Sasanga Nikapitiya who primarily orchestrated and arranged the multitude of meetings, appointments and visits of the visiting Defence delegation from Sri Lanka.

During the two-week program of the Defence delegation, they visited Ministry of National Defense of Korea, Joint Forces Military University, Korea National Defense University, Air Force Base in Suwon, De-Militarised Zone (DMZ) of the Joint Security Area of the Korean Peninsula, War Museum of the Republic of Korea, Samsung Innovation Museum which profiles the much noted Electronic Industrial Museum, Seoul Transport Operations & Information Services known as TOPIS and the second largest city of Busan, where they visited the UN Memorial Cemetery and Busan Museum, amongst others.

The Defence delegation was briefed by senior Korean Military personnel, analysts and experts on military issues and related subjects on structure of respective institutions, their functionaries and activities as well as their capacities and capabilities, amongst others.

The educational tour to Korea extended an abundant opportunity for the officers of Staff College of Sapugaskanda to enrich and to enhance their knowledge, comprehension and perception in the spheres and provinces of military developments and functionaries, political and economic diplomacy, functioning of governmental and non-governmental institutions and apparatuses, economic and technological advancements of the Republic of Korea and of course sociocultural affinities of the country.