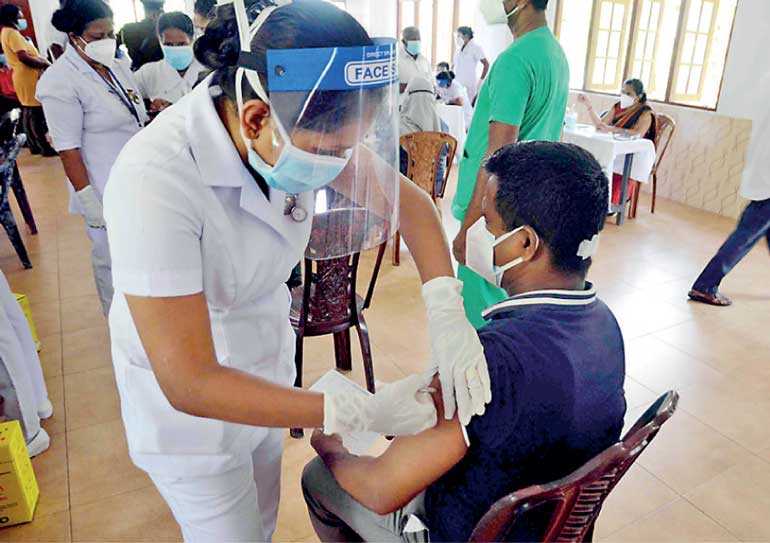 The first phase of the Russian Sputnik COVID-19 vaccine program for those between 30 to 60 years of age from Gothatuwa, Colombo yesterday – Pic by Pradeep Pathirana
---
Vaccination of persons in the Gothatuwa MOH area began yesterday with the use of the 15,000 doses of the Sputnik-V vaccine the country received on 4 May.

A vaccination centre was set up in the Madinnagoda Purana Rajamaha Viharaya and State Minister of Pharmaceutical Production, Supply and Regulation Prof. Channa Jayasumana said the vaccine is recommended for persons below the age of 60 and has to be administered in two doses. The second dose will be administered three weeks after the first jab.

With 13 million doses of Sputnik-V expected in batches this year, the country can vaccinate 6.5 million persons using the vaccine developed by Russia's Gamaleya Research Institute of Epidemiology and Microbiology.

The vaccine's efficacy is 91.6%. "Of the vaccines currently available to prevent the spread of COVID-19, the Sputnik-V vaccine is considered one of the safest," Prof. Jayasumana said.

Pointing to the success of the immunisation program, Prof. Jayasumana said: "It is apparent by now that there is a considerable drop in the number of patients detected during the third wave among vaccinated individuals in Colombo Municipal area and surrounding areas."

According to the Epidemiology Unit, 157,551 persons who received the AstraZeneca vaccine were fully vaccinated by 5 May. This includes 18,265 persons who received the second jab on Wednesday.

A total of 925,242 persons have received the first dose of the AstraZeneca vaccine in Sri Lanka.