---
Says technology being abused instead of being used for society's benefit
People have become slaves to technology
Urges clergy to guide youth to counter this trend
Speaker Karu Jayasuriya said on Sunday that recording and then publicly airing in the media private phone conversations between individuals was a sign of the moral decay in Sri Lankan society and how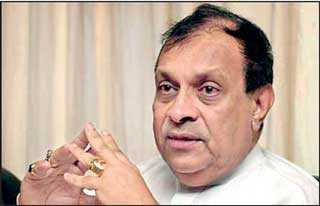 Speaker Karu Jayasuriya
modern technology was being misused. He said that while technology should be used for the country's development as well as individual progress, people had become slaves to such technology which had become detrimental to them and society.

The Speaker made these comments at a ceremony at the Bodhirukkaramaya Raja Maha Viharaya on Sunday.

Jayasuriya said that private conversations that should not have been made public are being enthusiastically devoured by people while what should have been done was legal action should have been initiated against those who had violated the law.

"All concerned sections of society, especially members of the clergy, must guide the youth of this country and wean them of these bad influences," he said.

The Speaker's comments were made in reference to the telephone recordings of private conversations involving United National Party (UNP) Parliamentarian Ranjan Ramanayake and senior members of the police and the judiciary which were leaked to the media.