Says majority should not give way to fears of the few

Admits successive governments failed to achieve communal harmony
By Skandha Gunasekara

Society should take the lead in bringing about reconciliation and unity among communities without waiting for Government initiatives, former President Chandrika Bandaranaike Kumaratunga said last week.

The former President, who was the Chief Guest at an All-Island School Art and Essay Competition prize giving at the BMICH, addressing the event said that several programs had already been conducted across the country by civil society groups and Non-Governmental Organisations to promote reconciliation.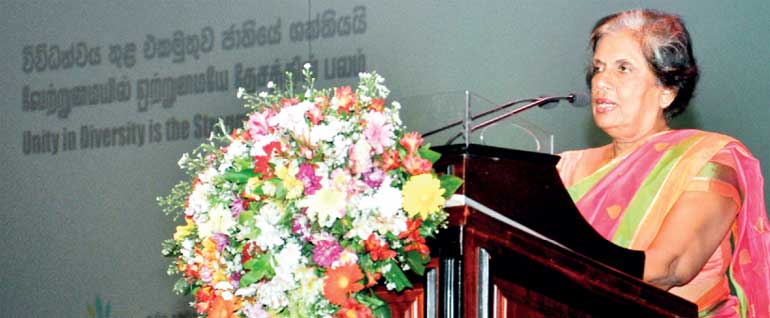 Former President and Office for National Unity and Reconciliation Chairperson Chandrika Bandaranaike Kumaratunga – Pic by Ruwan Walpola


"The majority should not heed and fear the extremist ideologies of a few. The public, along with NGOs and civil society groups, must stand up and take the lead in fostering reconciliation," she said, adding that successive governments had failed to address the issue of communal harmony.

She said that short-sighted politicians who had no other means of gaining political mileageused extremism and racism as a tool to garner support to advance their political careers. Furthermore, she pointed out that while a select group of Buddhist monks were spreading racist ideologies, the bulk of Bhikkus in the country advocated unity between various ethnic and religious groups.

She pointed outthat the country had failed to develop since attaining independence as various governments had to address issues of extremism in the island instead of developing the nation and its economy.