First meeting after MR took SLPP leadership and declared ex-Defence Secy presidential candidate
JO members to meet today to be briefed on MS-MR talks
President Maithripala Sirisena and Opposition Leader Mahinda Rajapaksa held their long-awaited meeting on Tuesday night, which was the first time the two leaders met after the latter formally became the leader of the Sri Lanka Podujana Peramuna (SLPP).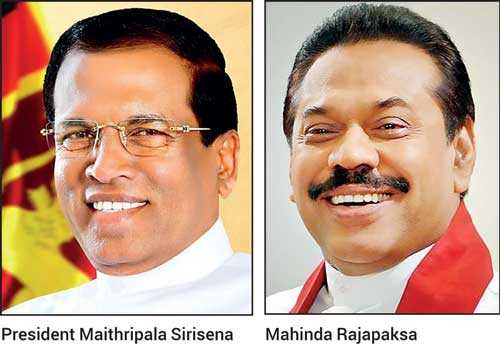 Sri Lanka Freedom Party (SLFP) General Secretary MP Dayasiri Jayasekara confirmed to Daily FT that both leaders met on Tuesday night for a special one-on-one meeting. However, he was unable to disclose any details of what was discussed, as he was not present at the meeting.

Opposition Leader's Media Spokesman Rohan Weliwita said the meeting took place as a private discussion between the two leaders. Informed sources said the meeting was cordial, and both leaders had focused on the ongoing discussion between the SLFP and the SLPP. The SLFP and SLPP held the seventh round of discussion on Tuesday morning, with the inclusion of SLLP National Organiser Basil Rajapaksa. Following the meeting, Rajapaksa said the long-awaited talks between Sirisena and Mahinda Rajapaksa will take place on Tuesday night. Representatives of both parties had agreed to make a final decision following the meeting between leaders of the two parties.

Following the discussion between the two parties, SLPP National Organiser said the final call will be made after the President and Opposition Leader agree onthe policy framework of the proposed coalition. Informed sources said the Opposition Leader has called for a special group meeting of Joint Opposition members today, and SLPP senior officials have been called to be briefed on the meeting held on Tuesday night.