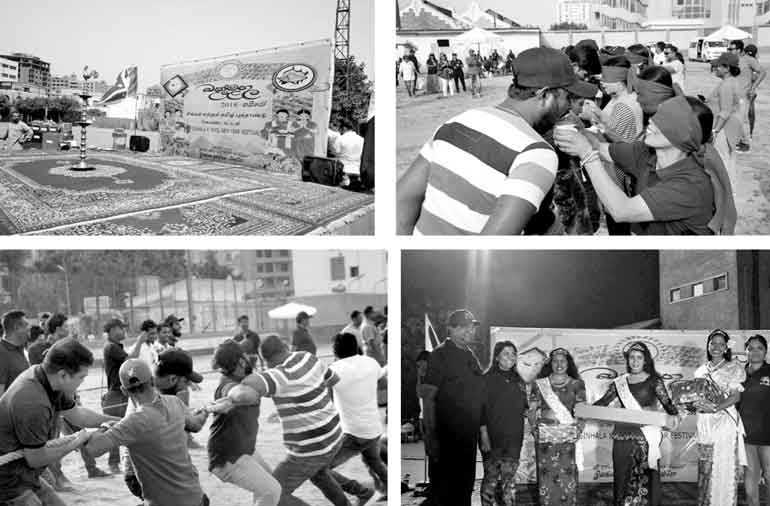 The Sinhala and Tamil New Year 2018 was celebrated at the Embassy of Sri Lanka in Egypt with an open house at the Ambassador's Residence inviting the community to exchange greetings, partake of traditional sweet meats and convey new year wishes to each other. A large number of Sri Lankan expatriates visited the Ambassador's Residence and exchanged wishes, greetings and took part in 'Ganu-denu' rituals.

This was followed by a program of instrumental music and singing by students of the Cultural Centre of the Embassy where instrumental music and singing are taught. It was a day of joy and felicitation enjoyed by Sri Lankans belonging to all religions and ethnicities. The event was celebrated as an occasion of national integration.

The Embassy, together with the Sri Lankan community in Egypt also organised an Avurudu festival on 20 April at the grounds of Abbasaya Sport Club in Cairo.

The festival commenced with the hoisting of the National Flag by Sri Lanka's Ambassador to Egypt Ramaiyh Yogarajan, followed by singing of the National Anthem in both Sinhala and Tamil languages and the lighting of the traditional oil lamp.

Delivering the welcome address, Ambassador R. Yogarajan wished a happy and prosperous New Year to all gathered and highlighted the significance of celebrating New Year that renews family bonds and friendships. He thanked the members of the Sri Lankan community and well-wishers for their presence at the festival and for their active assistance and contribution in promoting Sri Lanka's unique traditions and customs in Egypt.

All participants were treated to a sumptuous buffet of traditional sweetmeats prepared by the community. The Festival provided good opportunity for the Sri Lankan expatriates to participate and enjoy traditional Sri Lankan Avurudu games, such as, pillow fight, marking the eye of the elephant, lime and spoon race, bun eating, fancy dress parade, feeding curd to a blind-folded person and bursting of balloons. Contests of 'avurudu kumariya' and 'avurudu kumara' were also held. The festival was not only celebratory, but also educative for the younger generation who are not familiar with the traditional, cultural rituals and the games associated with the New Year.

Cultural items were performed by the young girls and boys of the community and it was a great opportunity for them to demonstrate their skills. The celebrations concluded with a prize giving, and prizes were distributed by the Ambassador, his spouse and the staff of the Embassy.