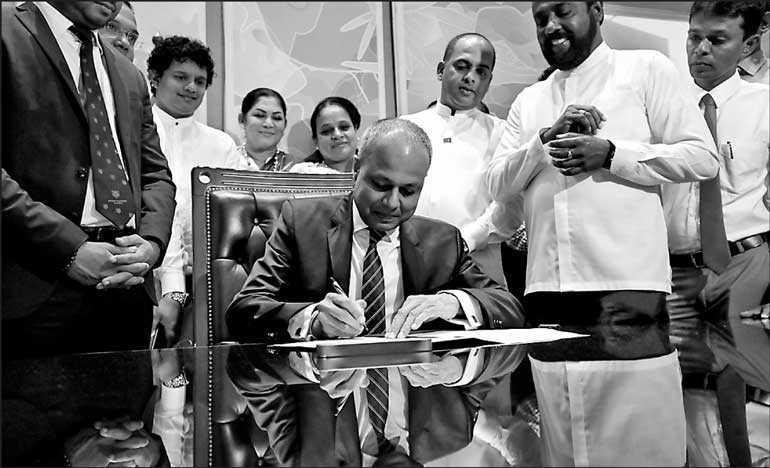 Says will implement policies swiftly to promote growth
Efforts would be made to implement policies swiftly so that effects of the political turmoil in the past few weeks would be reversed, Ports and Shipping Minister Sagala Ratnayake said yesterday, noting that shipping needs to continue as a key sector of Sri Lanka's economy.

Ratnayaka, after assuming duties on Friday, said Prime Minister Ranil Wickremesinghe had advised his Cabinet to start working immediately to ensure the stability of the country.

"The Ministry of Ports and Shipping has contributed a great deal to the country's income and it acts as a basic pillar of our economy. During the recent period, the Treasury gained a significant amount of money due to this Ministry. The sector has seen a steady growth and it has expanded continuously," he said.

The new Minister praised the Sri Lanka Ports Authority for adapting successfully to a challenging global shipping environment and recalled that key officials of both the United National Party (UNP) and Sri Lanka Freedom Party (SLFP) had held the portfolio at different times in the past.

"Former Ministers Lalith Athulathmudali, Mangala Samaraweera, Rauff Hakeem, Arjuna Ranatunga, and Mahinda Samarasinghe have served in this Ministry. All of these Ministers carried out their duties with the support of these workers in a productive manner. Therefore we should work as a team to achieve our goals as in the past."

Ministry Secretary L. P. Jayampathi, Chairman of the Sri Lanka Ports Authority Dr. Parakrama Dissanayake, MPs S. M. Marikkar, Kavinda Jayawardene, Wijepala Hettiarachchi, Rohini Kavirathna, Hector Appuhamy, Chaminda Wijesiri, and Southern Provincial Council Member Kapila Gamage, Colombo Mayor Rosie Senanayake, and several other high profile officials were present at the occasion.