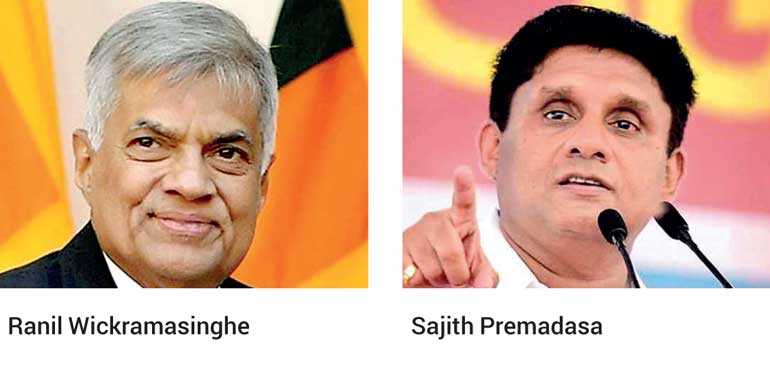 Decision taken at UNP Parliamentary Group meeting last evening
Four-member committee expected to finalise decision within 2-3 days
Dep. Leader Premadasa writes to UNP leader asking that candidate be named without delay
JHU Ranawaka says decision can be made by secret ballot among 106 UNF parliamentary group
A meeting of the UNP parliamentary group ended last evening with the decision to entrust to a four-member committee the task of selecting the most suitable candidate for the upcoming Presidential Election as both its Deputy Leader Sajith Premadasa and constituent parties pushed for an early resolution to the issue.

Premadasa was not present the group meeting which was presided by Prime Minister and UNP Leader Ranil Wickremesinghe. The consensus among all was the need to finalise the candidate without further delay.

While both Wickremesinghe and Premadasa are in the running, the name of Speaker Karu Jayasuriya too has been proposed by some groups as a likely compromise candidate.

The committee comprising Ministers Kabir Hashim, Mangala Samaraweera, Ranjith Madduma Bandara and Dr. Rajitha Senaratne are expected to give a report within two to three days, UNP sources said.

Meanwhile Premadasa wrote to the UNP leader yesterday and asked him to expedite the naming of the presidential candidate saying the delaying tactics were undemocratic and harmful to the UNP and its constituent parties.

Minister Champika Ranawaka of the Jathika Hela Urumaya (JHU), a constituent party of the United National Front (UNF), told reporters at a press briefing that if no consensus can be reached soon, the decision on the candidate can be decided by a secret ballot among the 106 strong UNF parliamentary group. Premadasa too voiced a similar view when he told a public gathering yesterday that the decision on the candidate can be taken by a secret ballot of the members of the UNP's Working Committee and the UNF parliamentary group.