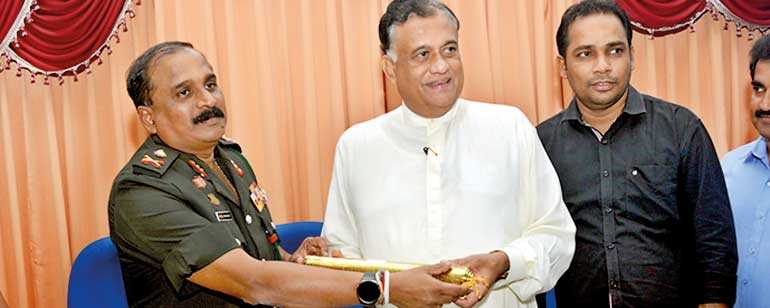 Fulfilling the initiative of President Maithripala Sirisena to release all lands held by the security forces in the north and east before 31 December, the Army has begun releasing lands in Batticaloa in the Eastern Province.

The Army, in line with the Presidential Task Force guidelines, has released four more land plots of 8.5 acres in total in the Batticaloa District as the second phase of land release in the east.


Commander, Security Forces in the East handed over the documents of the lands to be released to their legitimate owners to the Governor of the Eastern Province, Rohitha Bogollagama, during a meeting held at the District Secretariat Batticaloa on Thursday.

Four plots of 2.25 acres in Kirankulam in Manmunepattu DS Division, 0.5 acres in Ondachchimadam in Manmune South Eravilpattu DS Division, 0.75 acres in Kokkadicholai in Manmune South West Porativupattu DS Division and five acres of Government land in Thonithattamadu in Koralepattu North DS Division were released.

The Commander Security Forces – East said that more lands in Ampara District will also be released to their legitimate owners. The Security Forces – East began the releasing process of private and State land from Trincomalee District as the first phase.


Meanwhile, 1,099 acres of land in the Northern Province used as farming land by the Army will be released to its original owners.

Accordingly two plots of land in the Kilinochchi District, 194 and 285 acres, will be released to its rightful owners. A 500-acre land in Mullaitivu and a 120 acre land in Puthukkudiyiruppu are also due to be released, according to the Army. The plots of land will be released to its owners in the second week of January. Meanwhile 263 acres of land currently occupied by the Army in the Northern and Eastern Provinces are also due to be released to its owners before Monday.