IDB official says strict guidelines in place to distribute scrap metal generated by Govt. institutions
Many requests are received by industrialists for such raw material including through politicians
President's Office sent request on behalf of Ibrahim whose sons were among suicide bombers
No feedback so far from defence authorities whether such materials were used by the bombers


Scrap metal distributed by the Industrial Development Board (IDB), which comes under the Ministry of Industry and Commerce, are issued to local industrialists in keeping with stringent guidelines and no preference was given to anyone due to requests from politicians, two witnesses told the Parliamentary Select Committee (PSC) probing the Easter day attacks.

Director General of the IDB P.L.U. Rathnamalala told the Committee that they regularly receive letters requesting the allocation of scrap metal and other material from local industrialists but these were issued only in keeping with the laid down procedure.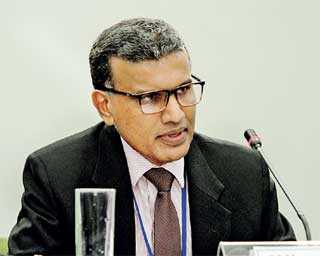 Director General Industrial Development Board P.L.U. Rathnamalala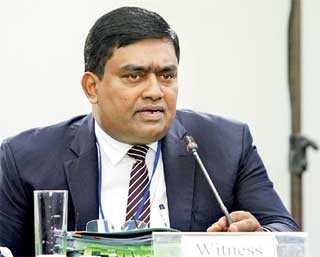 Secretary Ministry of Industry & Commerce K. D. N. Ranjith Asoka
He confirmed that a letter had been sent to the IDB from the President's Office and Defence Ministry asking the Board to facilitate the provision of brass empty shells to one Yusuf Mohamed Ibrahim, and his manufacturing plant named Colossus Ltd. Ibrahim's two sons were among the suicide bombers who carried out the Easter day attacks. He is now in police custody. "It was request and there are many such requests made to us," he said.

The official said that the IDB is empowered to collect and distribute ferrous and non-ferrous scraps generated by Government institutions and distribute them among industrialists engaged in the several industries on concessionary rates for utilisation as raw material.

The IDB official said that twice they obtained spent brass shells used by the military but they were crushed and processed them before being sold to copper and brass handicraft manufacturers.

"We advertise in the papers on the availability of the material and those who are interested have to send in an application which has to be endorsed both by the Grama Niladari of the area as well as the Divisional Secretary. We also have a follow-up process to ensure that all materials are used for legitimate purposes," he said. Secretary to the Ministry of Industry and Commerce K.D.N Ranjith Asoka who testified before the Committee said no one had influenced him from any quarter to give scrap irons and copper removed from State institutions to the Wellampitiya copper factory belonging to Mohamed Ibrahim.

He said that the Ministry and the IDB strictly follows the regulations and laws to the letter in granting permissions to all copper factories. "There is a severe shortage of raw material for local industrialists and hence they seek assistance from everyone. We have received a letter even from the Presidential Secretariat requesting the said company be given 500 metric tons of copper. I do not think it is influence." He said following the terror attacks, he informed the Defence Ministry about the materials released to the company and about the visas provided to some foreigners to work in the sector but he has not been contacted by the Defence authorities about the matter so far. The Secretary also refuted allegations that Sathosa vehicles were used for terrorist activities and also said there is no truth to reports that 'secret' rooms are maintained in in the Sathosa building. CK Pics by

Chamila Karunaratne