---
Promises broad proposals to ensure national security, prosperous economy, unified nation
Focuses on green economy for sustainable development process
Extends open invitation to all citizens to rally around him
Presidential aspirant, United National Party (UNP) Deputy Leader, and Housing, Construction, and Cultural Affairs Minister Sajith Premadasa yesterday pledged to bring two new laws to empower women and youth in the country, so they can make a greater contribution to developing Sri Lanka.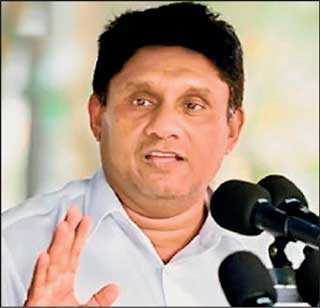 Minister Sajith Premadasa


Speaking at a rally organised at Sathyawadee Grounds in Kurunegala, organised by Transport and Civil Aviation State Minister Ashok Abeysinghe, Internal and Home Affairs and Provincial Councils and Local Government State Minister J. C. Alawathuwala, Housing and Construction Deputy Minister Indika Bandaranayake, and Thushara Indunil, Premadasa promised to focus on inclusive development to provide an equitable living standard for all citizens.

Premadasa highlighted broad proposals to ensure national security, a prosperous economy, and a unified nation, while emphasising that priority will be given to build a green economy through a sustainable development process.

"We have now reached a turning point in our country to bring in the next revolution. In that journey, I pledge to empower women and youth in this nation to be self-employed, so that they will be able to enhance their household income. Come November or December, I will put forward two separate bills to Parliament to make it the law of this country, and thereby enabling women and youth to be major contributors for the development of our economy," he said.

He also said that under his leadership, no one will have to be slaves of anyone, but will be fully empowered in innovation, English, digital technologies and ICT. In addition, Premadasa pledged to create a Sri Lanka that provides a safe and equal environment, for women to be able to move about in the country at any time of the hour.

"In this new Sri Lanka we build, we will give special focus on empowering women. I believe it is a great solution to tackle the ever-increasing cost of living. A strong women's workforce is indeed a great wealth to the country. We will also establish discipline, law, and order to protect them, and create a safe environment for them to go anywhere in the country at any time of the day. By empowering the women we can increase the income generated by the breadwinner of the family three-fold. Therefore, women's empowerment will be a priority in our development agenda," he stressed. Premadasa also said he will allow new ideas, views, and innovations of youth for Sri Lanka to become competitive among other economies.

Noting that no power is superior to the people's power, he extended an open invitation to all citizens to rally around him to build an inclusive, prosperous era.

He also promised to give the highest recognition to the soldiers of the country who fought a 30-year civil war, while emphasising that their welfare will be looked after under his leadership. "I will assure you that no soldier will have to sweep roads or collect garbage under my leadership. All the soldiers will be given a dignified life for their outstanding service given in ensuring national security of the country," he added.

Premadasa asserted State governance must be centred among the common man, and that he has decided to give a strong leadership to make Sri Lanka once again a proud nation with the contribution of all hardworking countrymen. "State governance must be centred among the masses or the common man. In this journey towards prosperity I will put Sri Lanka first. The development strategy will range from agriculture, healthcare, education, housing, fisheries, exports, manufacturing, SMEs, technology, innovation, science and many more," he added. To expedite the development process, Premadasa said under his leadership, human, economic, social and cultural rights will be protected, and everyone will be treated equally.

"I promise to give priority to Buddhism and to protect and nurture it, while protecting the other religions. During the past four years, I have commenced constructing 1,125 Buddhist Stupas islandwide. In addition, I have supported in reconstructing the three Christian churches that were attacked on Easter Sunday. I have also commenced rebuilding of the Islam Mosques that were damaged during mob attacks post-Easter Sunday. I have directed to renovate the Hindu Kovils as well. This is real and practical Buddhism. In Buddhist philosophy, there are no religion, nationality, race, or cast," he added.

While others sling mud and hurl baseless allegations and negative comments, Premadasa said he will work harder day and night. "Some people are very disappointed today because despite their baseless allegations, Sajith Premadasa continues his work. I want to let them know that I am a person who sleeps less and works more, therefore, these allegations are not important. The people of this country know who I am, and that is why they want me to be their next President," he pointed out. To create a revolutionary change, Premadasa urged people from all over the country to get ready, unite, and rally around this force to lead the country towards prosperity.

Among the large gathering of supporters were Ministers, State Ministers and Members of Parliament including Joseph Michael Perera, Dr. Harsha de Silva, Ajith P. Perera, Eran Wickremeratne, Chandrani Bandara, Dilip Wedaarachchi, Nalin Bandara, Sujeewa Senasinghe, and a host of others.

Sharing their views at the third rally yesterday, the UNP members insisted that Deputy Leader Sajith Premadasa should be nominated for the upcoming Presidential Election.