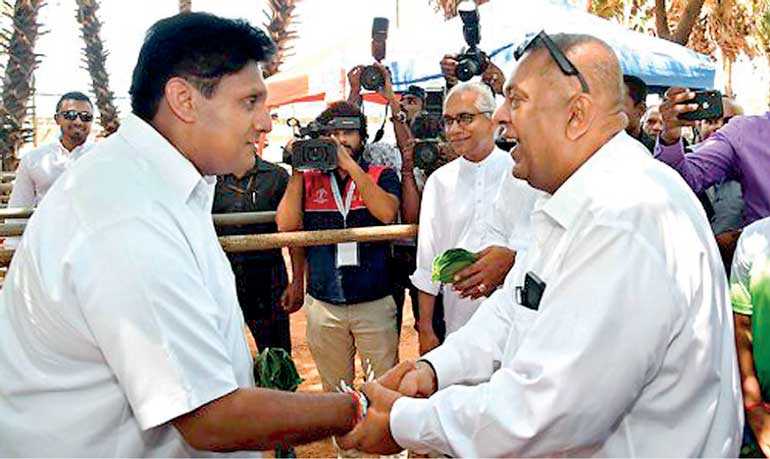 United National Party (UNP) Deputy Leader Minister Sajith Premadasa claimed yesterday that for those who are unfamiliar with democracy may see there is an internal crisis in the UNP, but it is the true democracy that is at work.

He points out that the existence of various ideologies is a sign of democracy and that such ideologies do not arise only under totalitarian rule.

"Some factions are trying to point out that there is a crisis within the UNP regarding the presidential candidacy. Those who are not familiar with the term democracy can see this situation as a party crisis. But democracy is freedom to express own ideas, opinions. Some parties do not have different opinions. It is because such opinions are controlled," he said.

Minister Premadasa made these remarks at a media conference held at the Muttraveli Grounds in Jaffna yesterday after participating in the Enterprise Sri Lanka exhibition as the Chief Guest on its third day.

"Enterprise Sri Lanka's interest subsidised loan scheme, conceptualised by Finance Minister Mangala Samaraweera, opens the avenues for low income people to reach their goals It gives them the knowledge and capital they need to start a business. These loans are given under very relaxed conditions and at low interest rates. So even though this program aims to create 100,000 entrepreneurial opportunities, it is possible to create 1 million entrepreneurs."

The Minister said while visiting the exhibition premises many people asked him about the issue of the Tamil people.

"I am not in the stance to say one thing when abroad and say a different thing when I come back to Sri Lanka. We had some leaders who were 13-plus in India and 13-minus when they came to Sri Lanka. My position is to solve this problem through maximum devolution within a unitary country. But I have to say one thing. The only solution to this problem is political, economic and social empowerment. If anyone in this country feels like they are second-class people, they are inferior, then we do not create solutions."

He said the Provincial Council system was introduced as a solution to the Tamil problem, but it was not fully implemented. "Today the 13th Amendment has become a joke. We must strengthen the PC system. Our position is very clear in the policy statement we presented at the Presidential Election of 2015. That is the maximum devolution of power within a unitary country. There is no change in that position today."

Minister Sajith Premadasa also met with the Tamil National Alliance leaders in Jaffna today. TNA parliamentarians MA Sumanthiran, Mavai Senathirajah and State Minister of Finance Eran Wickramaratne were among those present.