Premadasa had visited a hotel in Yala where a COVID-19 infected person was detected
He had been promptly informed of the detection by authorities
---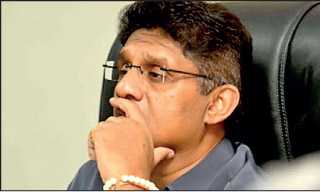 Opposition Leader Sajith Premadasa
---
Opposition Leader Sajith Premadasa has been identified as a second-level contact of a COVID-19 infected individual and the government has taken swift action to prevent him from being infected, Health Minister Pavithra Wanniarachchi told Parliament yesterday.

The Minister said that Premadasa had visited a hotel in Yala where a COVID-19 infected person was found. "Within hours our authorities informed the Opposition Leader of the situation so that he could take necessary action. So, the Opposition Leader has first-hand experience of the effectiveness of the government's measures to prevent the pandemic spread. Therefore, he must refrain from spreading false information and creating panic," she said.

Earlier the Opposition Leader said that the country had passed the cluster level to the community transmission level, and that the government was continuing to lie to the people about the country still being at cluster level.

The Health Minister meanwhile gave assurances that the situation was under the control of health authorities, and that the pandemic had not yet reached the community transmission level.