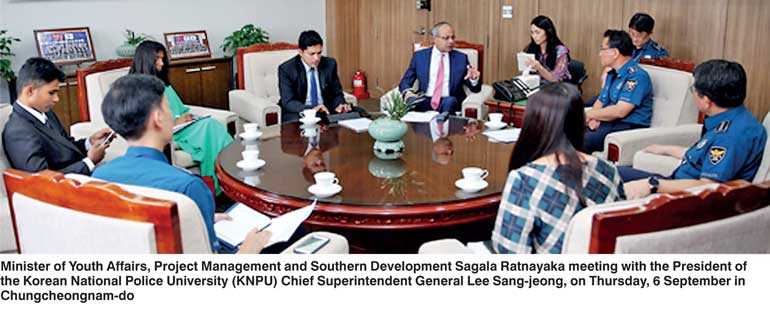 Minister of Youth Affairs, Project Management and Southern Development and Chief of Staff of the Prime Minister Sagala Ratnayaka visited the Republic of Korea from 2-8 September on the invitation of the Korea Foundation (KF) under its 'Distinguished guests in political affairs program'.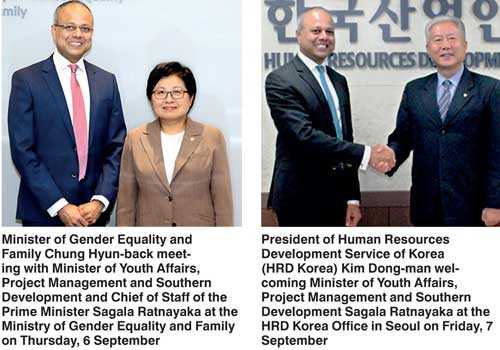 During the visit, Minister Ratnayaka also met with senior interlocutors of the Korean Government to discuss issues of mutual interest, including cooperation in the field of youth affairs.

During his meeting with the Korean Minister of Gender Equality and Family Chung Hyun-back on Thursday 6 September, Minister Ratnayaka briefed the Korean Minister on youth development programs in Sri Lanka including the work of the National Youth Services Council, and discussed ways and means of skill enhancement of Sri Lankan youth as well as their productive employment.
Minister Ratnayaka also extended an invitation to youth teams of Korea to visit Sri Lanka to share experiences and best practices, and to participate in the 'Yowun Puraya'Youth Festival successfully organised with international attendance by the National Youth Services Council of Sri Lanka. Minister Chung welcomed collaboration in the field of youth skills development between the two Ministries.

In the area of youth employment, Minister Ratnayaka met with the President of Human Resources Development Service of Korea (HRD Korea) Kim Dong-man and the Deputy Minister of Planning and Coordination of the Ministry of Employment and Labour Park Hwa-jin and expressed Sri Lanka's deep appreciation to the Korean Government for the employment opportunities provided to Sri Lankan youth under the Employment Permit System (EPS) of the Korean Government. The Minister also discussed cooperation for Sri Lankan youth under the EPS in Korean language education and entrepreneurial education, the latter to enable their effective and productive re-integration into the labour force on return to home country.

During the visit, Minster Ratnayaka also met with the President of the Korean National Police University (KNPU) Chief Superintendent General Lee Sang-jeong and discussed cooperation between the police services as well as capacity building of the Sri Lanka police.

Minister Ratnayaka was supported by Sri Lanka's Ambassador in the Republic of Korea Manisha Gunasekera and Embassy staff during the visit.