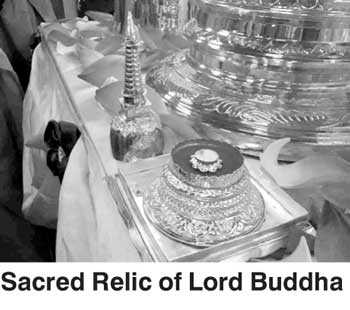 Sacred Buddha Relics presented by Sri Lanka Speaker Karu Jayasuriya during his visit to Viet Nam has been enshrined in the Bang pagoda (Linh Tien Tu) in Hanoi at a grand ceremony recently.
Speaker Karu Jayasuriya presented the Sacred Relics to National Assembly Chairwoman Nguyen Thi Kim Ngan during his visit to Hanoi from 23 to 27 April this year.

Religious rituals of the ceremony were conducted by the Most Ven. Thich Bao Nghiem, Vice President of the Viet Nam Buddhist Sangha with the participation of the monks of the pagoda.

Vice Chairperson of Hoang Mai District People's Committee Nguyen Kieu Oanh, Ambassador of Sri Lanka to Viet Nam, Hasanthi Urugodawatte Dissanayake, staff of the Embassy of Sri Lanka and more than 300 devotees attended the event.

After the rituals, the Sacred Relics were carried to the top floor of the 13 storey pagoda tower to be enshrined.

Following the ceremony, Most Ven. Thich Bao Nghiem had a brief meeting with Ambassador Dissanayake and expressed his sincere gratitude to Speaker Karu Jayasuriya for presenting the Relics to Viet Nam.

Ambassador Dissanayake hoped that these new Buddhist connections would further promote bilateral relations and eventually pave the way for more Vietnamese students, especially monks, to visit Sri Lanka to study Buddhism and related subjects. She also invited the Venerable Thero to visit Sri Lanka.

The enshrining of the Sacred Relics of the Lord Buddha marks an important milestone in bilateral Buddhist relations between Sri Lanka and Viet Nam, the Embassy said.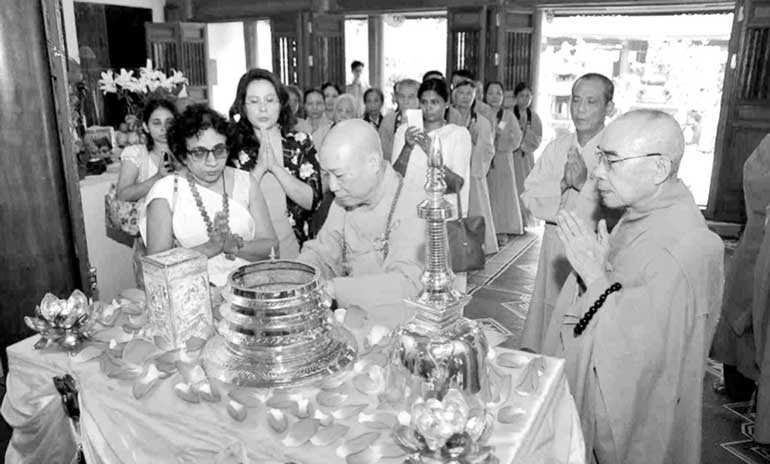 Meritorious rituals by the Vietnamese Buddhist Monks in the presence of Ambassador and the Vice Chairperson of Hoang Mai District People's Committee, in Ha Noi
Devotees awaiting to witness the procession carrying the Casket with the Sacred Relic