---
Acknowledges Opposition will be weak if SLPP achieves its target
Pledges to improve Parliamentary committees such as COPE to have vibrant, self-critical govt.
Assures tough action if SLPP members involved in king's court demolition in Kurunegala
By Nuwan Senarathna

Despite seeking a two-thirds majority at the upcoming Parliamentary Election, the Sri Lanka Podujana Peramuna (SLPP) on Monday said it would attempt to foster a balance of power in the House by being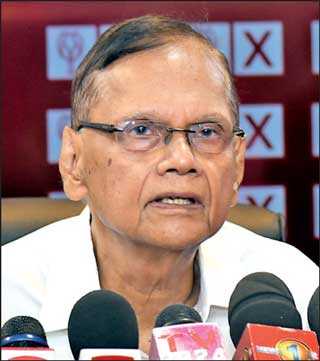 SLPP Chairman Prof. G. L. Peiris
a "self-reflective" party that would work with the Opposition to improve accountability through the vibrant function of Parliamentary bodies such as the Committee on Public Enterprises (COPE).

Speaking to reporters at the SLPP Head Office, Chairman Prof. G.L. Peiris said they would take necessary measures to protect democratic objectives through strengthening Parliamentary committee systems such as COPE and create a culture of "self- criticism" within the Government.

"The Opposition's objective is not to win the election. They have already acknowledged that the election will be won by us. In that situation the Opposition will be weak. Therefore, the functions and responsibilities attributed to the Opposition cannot be carried out by a weak Opposition. This enhances the duties of the government in power. They will have to be self-critical and the government will have to discharge some of the duties of the Opposition," he said.

According to Prof. Peiris, a weak Opposition enhances duties of the government in power to be self-reflective and the government will have to discharge some of the duties of the Opposition. He noted that strengthening the steering committee system in Parliament would be an important aspect as that would enable Opposition members to work with the committee to fulfil democratic objectives by questioning the government's policies.

The SLPP Chairman argued that the high public turnout at the postal vote had shown that there was enthusiasm among the public officials to support the SLPP. "Several groups argued that there is very little enthusiasm in the country with regard to the election. These groups have consistently argued that the voter turnout on 5 August may be very low because the public is scared of COVID-19 and that would dampen enthusiasm. That argument is no longer tenable in light of the postal vote last week."

Prof. Peiris argued that the Opposition was attempting to delay the election to avoid their all-but-certain defeat at the forthcoming General Election. He also reiterated that a two-thirds majority would be needed to address challenges posed by threats to national security. He also stressed that intelligence services should be strengthened to prevent any extremist activities to assure national security.

Speaking to reporters, SLPP General Secretary Sagara Kariyawasam noted if any of the SLPP members had been involved in the alleged demolition of King Bhuwanaikabahu II's Court in Kurunegala, the party would take disciplinary action against them.

"We will have to wait for the final report of the investigation and if any of the SLPP members have been involved in the incident we will take disciplinary actions against them as we have done on previous instances," he said.