Charges modern regulations not prohibiting displaying preferential numbers
Says election laws needs to be amend to protect level playing field for candidates
By Nuwan Senarathna

The Sri Lanka Podujana Peramuna (SLPP) yesterday said that it will attempt to amend election laws to meet modern public demands while ensuring protection of democratic rights of citizens.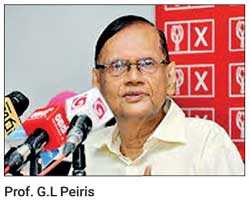 Speaking to reporters at the SLPP head office, Chairman Prof. G.L Peiris said the existing election laws raised concerns about the equal opportunity for candidates. According to Prof. Peiris, the recent decision of the Elections Commission (EC) prevents candidates displaying their preferential number making it difficult for candidates to connect with voters.

"The EC's decision to prohibit candidates displaying their preferential number is a bit controversial. For those who are rich enough they can get additional advantages as they can advertise on TV and in newspapers. However, when it comes to democracy there should be a level playing field, which will not be protected with these regulations," he charged.

He noted a two-thirds majority will be needed to address these issues and create an environment that will provide equal opportunities to all candidates. The SLPP Chairman stressed that regulation of candidate deposits should also be revisited as this has resulted in a large number of candidates contesting and driving up election costs.

"I think it is time to improve standards of the election to meet the modern era and pave the way for smoother elections and to protect equal rights for everyone. However, to do that we need a two-thirds majority," he said.