Says he is not affiliated with SLPP anymore
Denies SLPP offered National List spot to Amman
Wants all 3 Election Commission members to approve foreign observers at polls
By Nuwan Senarathne

The Sri Lanka Podujana Peramuna (SLPP) yesterday said it denounced in the strongest terms the controversial statements made by former LTTE Eastern Commander turned politician Vinayagamoorthy Muralitharan alias Karuna Amman and said he was no longer affiliated with the SLPP.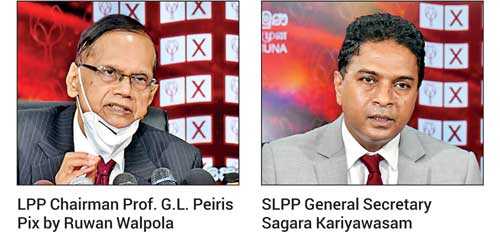 Several parties including the United National Party (UNP), Samagi Jana Balawegaya (SJB) and Janatha Vimukthi Peramuna (JVP) have criticised Amman's controversial statement. The SJB and JVP also questioned the Government and the SLPP's stance on what he had said.

Speaking to reporters at the SLPP Head Office, General Secretary Sagara Kariyawasam condemned Amman's statement and insisted the party could not take any responsibility as he was not affiliated with it anymore.

"We condemn Amman's statement and as a political party that has always stood with the patriots, we cannot accept such a statement. However, he is not affiliated with the SLPP anymore and he is contesting from a separate political party," he said. According to Kariyawasam, Amman was contesting against them and noted Amman's statement did not meet the SLPP's policies and standards. "It is bit strange that he never made such statements when he was with us. However, soon after he decided to contest against us, he started to make such controversial statements," he added. Referring to Amman's statement that the SLPP had agreed to name him as a National List candidate; Kariyawasama noted the SLPP never discussed such matters with Amman.

"We will not work with those who are not ready to protect the sovereignty and unitary status of the State. The SLPP has always been a political party that is committed to protecting the motherland and this will be continued."

Speaking to reporters, SLPP Chairman Prof G.L Peiris hailed the Election Commission's decision to allow international election observers to monitor the election. However, he charged only one member was responsible for granting permission to international observers.

"We believe all three members should decide about granting permission for international observers. If only one member makes the decision, that could lead to concerns about the impartiality of the process. Therefore all three members should be involved in the process," he said.