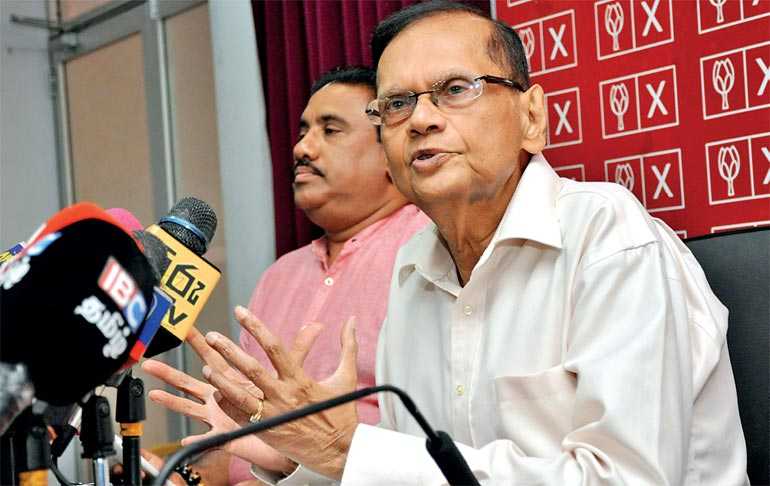 SLPP Chairman Prof. G. L. Peiris and MP Rohitha Abeygunawardene address the press conference - Pic by Lasantha Kumara
---
Insists since UPFA has exited coalition govt. UNP cannot establish Cabinet with more than 30 members
By Nuwan Senarathna

The Sri Lanka Podujana Peramuna (SLPP) yesterday said that as the United People's Freedom Alliance (UPFA) had pulled out of the Government it was not possible for the United National Party (UNP) to form a national government with anyone else and therefore they could not have a Cabinet which exceeded 30 members.

"According to Article 46 of the Constitution, the Cabinet cannot exceed 30 members. Therefore the UNP has to respect that and limit the Cabinet," SLPP Chairman Prof. G.L Peiris told reporters at the party headquarters yesterday, contending that the national government that existed before 26 October was created with both the UPFA and the UNP.

However, as the UPFA will not form a government with the UNP there could not be a Cabinet that exceeded 30 members.

Nevertheless, the UNP had earlier argued that the national government that was formed in 2015 was done so with the participation of three parties, namely the UNP, UPFA and the Sri Lanka Muslim Congress (SLMC) and therefore a coalition government could exist. In the case of a coalition government, the UNP contended that it was possible to have more than 30 Cabinet members. Early indications from the UNP have suggested that they will form a 30-member Cabinet. In addition to the Cabinet members, there can be as many as 40 Deputy Ministers and State Ministers, bringing the total number of potential appointments to 70.

"The UNP is trying to find a way to form a national government to exceed the limit of 30 Cabinet Ministers. Now they are trying to form a national government by signing an agreement with MP Ali Zahir Maulana who was the only one to contest under the Sri Lanka Muslim Congress (SLMC)," he said.

Prof. Peiris claimed the number of Cabinet Ministers could only be exceeded if a national government was formed. He noted that the national government could only be formed "if a political party which won the most number of seats in Parliament forms a government with more than either two parties or two groups."

"The SLMC contested the 2015 General Election under the United National Front (UNF). Therefore the UNP cannot get away with this limitation to appoint more than 30 Cabinet members," he charged.

Prof. Peiris' claims that the fifth clause of Article 42 of the Constitution states "national government means a Government formed by the recognised political party or the independent group which obtains the highest number of seats in Parliament together with the other recognised political parties or independent groups." This essentially means a national government is equal to a coalition government.

Meanwhile, Prof. Peiris said the UPFA would request Speaker Karu Jayasuriya to appoint MP Mahinda Rajapaksa Opposition Leader. According to Prof. Peiris, the withdrawal of the UPFA from the national government made them the largest alliance in Parliament and therefore eligible to become the main Opposition.