Says background checks will weed out unsuitable, politically biased members
Argues controversial behaviour undermines all independent commissions
The Sri Lanka Podujana Peramuna (SLPP) yesterday called for a background check of all members of various independent commissions before they are appointed, and said a new mechanism to follow such appointments will be introduced if the SLPP wins the upcoming General Election.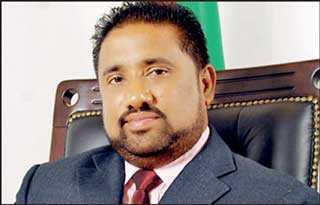 Rohitha Abeygunawardana


Speaking to reporters at the SLPP head office, former parliamentarian Rohitha Abeygunawardana said the public has raised concerns about the impartiality of certain independent commissions that were established under the 19th Amendment due to the behaviour of its members. Therefore a background check would enable the appointment of non-politically affiliated members to commissions.

However, under the existing system, members to Commissions are recommended by the President and appointed after being vetted by the Constitutional Council, which is presided over by the Speaker.

"If you look at the behaviour of some members of independent commissions, we have to ask ourselves are they really independent? I think this is not healthy for democracy. These commissions were established to uphold democracy. However, at the moment there are lots of concerns about the impartiality of the members of those commissions," he said.

He noted independent commissions were vital to protect democracy. However, he argued there were shortcomings in the system on how independent commissions should operate, and that led to recent concerns about independent commissions. He pointed out that there were criticisms about how some members behaved and several parties had complained regarding this.

"There were reports concerning the behaviour of members of several independent commissions. This is affecting other members who are working hard to maintain impartiality. Therefore I believe a system needs to be set up to check the background of those nominated to become members."

He noted those were appointed as members of commissions should not be affiliated with any political party. According to Abeygunawardana, a background check would be useful to select the best-suited individual for the position, which will improve its independence.

Abeygunawardana argued there were shortcomings in the 19th Amendment and that was needed to be addressed. He expressed confidence that the SLPP will be able to address those issues once Parliament is convened.