---
If backing for Pohottuwa not possible, Jayasekera says contingency plans being discussed within party
The Sri Lanka Freedom Party (SLFP) yesterday said the much-awaited final decision to form a coalition with the Sri Lanka Podujana Peramuna (SLPP) would be taken on 5 October, at the party's Central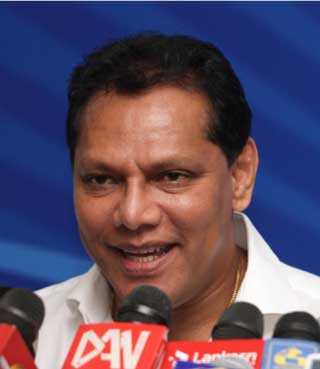 MP Dayasiri Jayasekara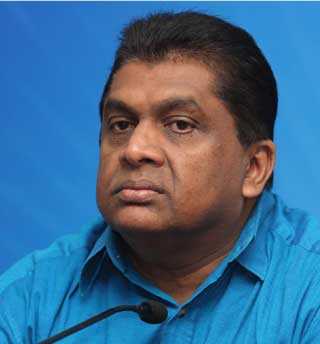 MP Lasantha Alagiyawanna
Committee meeting.

The SLFP Central Committee met on Monday to discuss whether to support SLPP presidential candidate Gotabaya Rajapaksa x. The three-hour-long discussion ended without a final decision on the proposed coalition being reached.

Speaking to the media at the SLPP Head Office, General Secretary Dayasiri Jayasekara said the Central Committee had decided to wait until 5 October to make a final decision. He noted that the SLFP would commit to making coalition talks successful.

"We are expecting positive feedback from the SLPP leadership that we can find common ground to form this proposed coalition. We are doing our best to form this coalition, and form a strong government that is capable of leading the country to prosperity," Jayasekara said.

According to Jayasekara, the SLFP will be crucial for the SLPP to win the upcoming Presidential Election. He noted that the SLFP would look for a contingency plan if it was unable to reach an agreement by 5 October.

He noted that the symbol of the proposed coalition had been the reason why, in his view, the formation of the coalition had stalled. Jayasekara said the symbol of the proposed coalition was discussed at length during the Central Committee meeting. He stressed that two agreements and one Memorandum of Understanding (MOU) would be sent to the SLPP, prior to the next meeting.

"A special committee chaired by Nimal Siripala de Silva has prepared a proposal, and that will be presented to Gotabaya Rajapaksa. The SLFP will sign an MOU with Gotabaya Rajapaksa. Another proposal on the policies of the proposed coalition will also be sent to the SLPP." Referring to United National Party (UNP) presidential candidate Sajith Premadasa's request to hold talks with the SLFP, Jayasekara said the party was yet to take a decision on Premadasa's request. However, he noted that the matter would be discussed with President Maithripala Sirisena, and his decision would be conveyed to Premadasa.