---
Amaraweera says SLFP will negotiate with SLPP candidate Gota
Will only back candidate if SLFP policies are supported
Says MR has lost SLFP membership according to party constitution, but party unlikely to do anything
The Sri Lanka Freedom Party (SLFP) will announce its decision on fielding a Presidential candidate during its 68th anniversary celebrations on 3 September.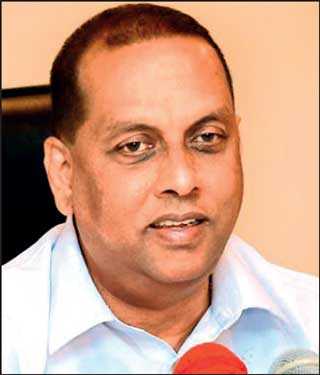 Mahinda Amaraweera


The party is now focused on internal restructuring and policy formulation, and will announce its stance on a Presidential candidate on 3 September, UPFA General Secretary Mahinda Amaraweera told reporters, at a press conference held at the party head office yesterday.

"We will announce our position regarding the Presidential candidate during our anniversary celebrations. We are not in a rush to do so," Amaraweera said.

The party will also continue discussions with the Sri Lanka Podujana Peramuna, "Although they went ahead with the announcement of a Presidential candidate before an alliance was agreed upon."

"They [Sri Lanka Podujana Peramuna] did go and announce a candidate in the middle of the discussions, but we have not ruled or come to any agreement yet, despite what some people have said. We will discuss and work on an agreement which does not dilute the SLFP party position," Amaraweera insisted.

The SLFP is set to discuss terms with the newly-nominated Sri Lanka Podujana Peramuna candidate Gotabaya Rajapaksa, as well to negotiate terms of support.

"We will not just support anyone, we want to make sure our new party policies are supported by whichever candidate we support," he said.

The United People's Freedom Alliance General Secretary was not clear if the SLFP is still planning to field a candidate on their own, but said that the Central Committee of the party has indicated a possibility.

However, the Party is currently more focused on the negotiations with the SLPP, he said, and will not be taking any disciplinary action against Senior Advisor and former President Mahinda Rajapaksa, who recently took over the leadership of another Party.

Admitting the move was "against the constitution of the SLFP" he noted that any member who takes the membership of another party, or pledges support or takes oaths of another party, will automatically lose membership.

"There is a huge problem here. By his move, former President Mahinda Rajapaksa can face a lot of challenges, but we are not going to act on it yet, as we don't want to jeopardise the ongoing negotiations with the SLPP," he said.

However, he added that the party Central Committee has to take a decision on the matter, which may be raised during next week's meeting.

Former SLFP General Secretary Duminda Dissanayake has been vocal about taking disciplinary action against those who abandoned the party. The Central Committee, of which Dissanayake is a member, is set to meet next week.