SLFP insists PSC interim report an effort to support Bathiudeen
Dayasiri says SLFP will not allow PSC to be presented in Parliament before NCM
Claims JVP will support them to block PSC interim report
SLFP Central Committee backs new laws on hate speech, sharpening anti-terror laws


By Ruwandi Gamage

The Sri Lanka Freedom Party (SLFP) yesterday said it will block any attempt by the Government to table the interim report by the Parliamentary Select Committee (PSC) appointed to investigate allegations made in the No-Confidence Motion (NCM) against Industry and Commerce Minister Rishad Bathiudeen before the motion's debate next month.

SLFP General Secretary Dayasiri Jayasekara said the issue was discussed at the Central Committee meeting last Sunday, and added that the party believes it is the correct and faithful decision to take on behalf of the country. Jayasekara also claimed the JVP will also support them in this regard.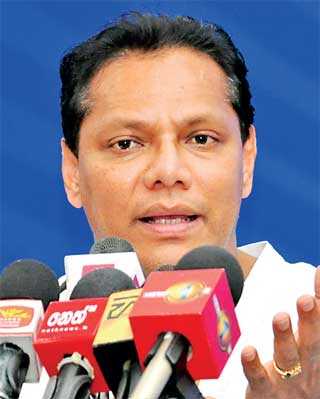 SLFP General Secretary Dayasiri Jayasekera
Prime Minister Ranil Wickremesinghe last week called for Speaker Karu Jayasuriya to request the PSC members to provide an interim report in two weeks so it could be tabled in Parliament. The NCM is to be debated on 18 and 19 June in Parliament.

"We will protest against the presentation or dialogue on any report by the PSC looking into allegations against Minister Rishad Bathiudeen before the No-Confidence Motion (NCM) is debated in Parliament on 18 and 19 June," he told reporters.

In addition, the General Secretary detailed decisions taken at the Central Committee meeting on Sunday, and added that the top SLFP membership is calling for national level as well as party level policies and regulations to counter the economic and communal impact of the Easter Sunday attacks.

The Central Committee has called for establishing stronger policies against any person spreading hate speech; strengthening of anti-terrorism policies, thereby improving immigration and emigration laws to prosecute any persons disrupting religious harmony in any way or aiding extremism; policing for the minimum age of marriage to be set up as 18 for all Sri Lankans; and setting up of a disciplinary committee to look into complaints made against SLFP politicians.

"It was noted by the Central Committee to speed up the negotiations between SLFP and United People's Freedom Alliance (UPFA) in forming an alliance, and further discussions about a logo and the naming of the presidential candidate on behalf of the future of the party," he added.

Jayasekera also said the Samurdhi program needs better implementation to select genuine beneficiaries. He stated that Samurdhi beneficiaries cannot be named as party favours for members called for a change in the selection.

"Any person living below the poverty line is eligible to become a Samurdhi beneficiary to help them overcome that situation. According to recent statistics there're more than 600,000 people who are suffering from poverty. There is some evidence that has also come to surface that the lists of these people who are suffering from poverty are being changed by political figures to give benefits as party favours. We are going to seek a law to bring justice to these people and select the right people for the Samurdhi program."

Pic by Sameera Wijesinghe