Even though coalition talks ongoing, focus on maintaining SLFP identity
Says if SLFP cannot keep its identity, will contest alone
SLPP likely to be invited to SLFP national convention on 3 Sept.
The United National Freedom Alliance (UPFA) yesterday said they will continue talks with the Sri Lanka Podujana Peramuna (SLPP), but have not ruled out the possibility of contesting solo at the upcoming election, if an agreement cannot be reached on the proposed coalition.

Speaking to reporters at party headquarters, UPFA General Secretary MP Mahinda Amaraweera said they would only support a coalition if the SLFP, which is the main party of UPFA, can maintain a defined identity within the proposed alliance.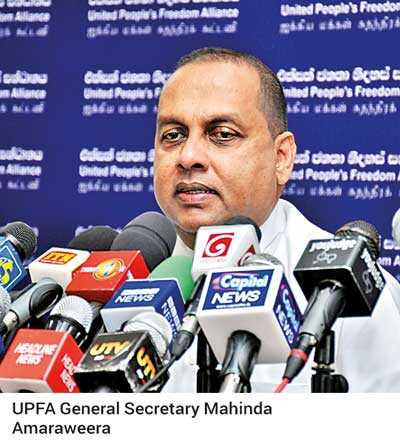 "We will not support an individual. We will support a solid policy framework that is capable of guiding the country to prosperity. The SLFP will not change its stance on that," he said.

Amaraweera said they will not support the United National Party (UNP) under any circumstance, as their policies do not align with the SLFP. However, he noted the SLFP will only work with the SLPP if the latter agrees to protect the identity of the SLFP, and not absorb it to the SLPP. "We cannot work with those who do not respect the identity of the SLFP. We will only work with those willing to protect our identity. So if that requirement is not met we will not hesitate to contest alone if necessary."

Amaraweera noted the SLFP will play a crucial role during the upcoming election and only the party that they will support be capable of winning elections as they have become the most important political force in the country. "Those who we support will be important during upcoming elections. I can assure we can be the force that decides who will win and who will lose. The SLFP has always been the most important political party and it will continue to be so in the future as well."

Amaraweera also said the SLPP could be invited for the SLFP National Convention, to be held on 3 September. He noted the party has decided to invite political parties that have been part of UPFA will also be invited, but the UNP will not be invited under any circumstances, as they do not expect to be working closely with the UNP. Referring to disciplinary action against those who violated the party constitution, Amaraweera said they will take tough action against national list MPs that support other political parties. "National list MPs have a responsibility to be faithful to their party, as they have become MPs because the party decided to name them as National List Parliamentarians. Therefore they should always keep that in mind before making any move," he said.