Presents set of proposals to parliamentary Committee on National Security
Admits more efforts should have been made to promote inter-communal harmony after Easter Sunday attacks
Backs amendment to PTA, refuses to support CTA


By Ashwin Hemmathagama

Sri Lanka Freedom Party (SLFP) parliamentarians yesterday submitted a list of recommendations, requesting the parliamentary Sectoral Oversight Committee on National Security to immediately pass new laws to curb racism in the country.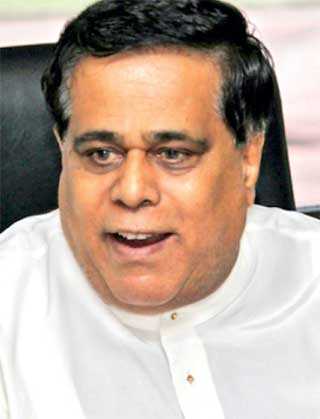 MP Nimal Siripala de Silva
Lawmaker Nimal Siripala de Silva, addressing a media gathering in Parliament, held the SLFP will extend their fullest support to the Sectoral Oversight Committee to pass laws without a delay. "We have observed a serious delay in passing laws in Parliament. This delay has affected the country and its people badly. Laws should be adequate to handle the situation in the country, including the cultural challenges. We also saw there are no adequate laws to curb extremism in Sri Lanka," he said.

MP de Silva also accepted the fact that political parties have failed to establish harmony among the ethnicities and different religious groups in Sri Lanka, soon after the attacks on minorities took place during the recent past.

"We believe it is the lawmakers' responsibility to get people to live in harmony. We propose the new laws would be common to all, and can be used to help people to live without fear. Even after the unfortunate incidents took place, Parliament was not able to take action. It only continued with unfruitful debates," he held.

The SLFP's recommendations to the Sectoral Oversight Committee on National Security proposed to pronounce racial hatred and matters related to creating unrest between different ethnic and religious groups be named as a criminal offence, the education system which is now differentiated based on religion and race to be changed, and children studying abroad and in private schools should be taught the importance of cultural heritage and social background of Sri Lanka.

It also said that foreigners entering Sri Lanka for the purpose of conducting seminars, research, and cultural studies should be examined before issuing visas; educating religious leaders to prevent use of clothing that covers the face making it difficult to identify the person; preventing the registration of political parties based on race, religion, and caste; preparing common laws for all religious establishments; and instead of different ministries, establishing a single ministry for all religions. They also proposed monitoring the use of foreign money received by Sri Lankan organisations, and establishing a mechanism to monitor social media.

According to MP de Silva, the SLFP will support the Government only if the Government amends the Prevention of Terrorism Act (PTA), rather trying to bring in new legislation, including the Counter-Terrorism Act. "We will look at the contents of both these documents and will propose wherever it is possible to merge," he held.