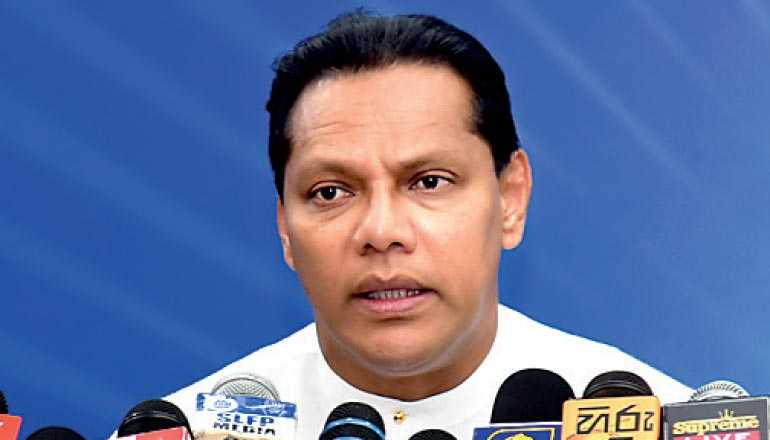 SLFP General Secretary and former MP Dayasiri Jayasekara
---
Pledges to create new political culture
Says SLNPS will follow GR's footsteps at General Election
Expects to meet EC to explore possibilities of allocating more air time on TV channels to convey policies
---
The Sri Lanka Freedom Party (SLFP) on behalf of the Sri Lanka Nidahas Podujana Sandanaya (SLNPS) yesterday invited all political parties and candidates to conduct campaigns free of plastic as it could lead to a new political culture that meets modern standards.

SLFP General Secretary and former MP Dayasiri Jayasekara told the media that they had successfully introduced a new political culture through a plastic-free election campaign at the Presidential Election.

"At the Presidential Election, we were able to introduce a plastic-free campaign and that was the beginning of a new political culture. We expect to continue the same and invite all other political parties and candidates to go plastic-free. The time has come to change our political culture and move forward," he said.

Jayasekara said the chance of any clash among candidates would be minimal if everyone opted for a plastic-free campaign. According to Jayasekara, clashes among supporters arose mainly due to posters and banners. Therefore, he suggested that the new initiative to go plastic-free would prevent such incidents.

He also said they would meet the Election Commissioner today to discuss the possibility of allocating more air time on TV channels to convey candidates' policies.

Jayasekara noted that every candidate would not be able to advertise on mainstream media due to high cost-related challenges and argued a mechanism to provide airtime for parties and candidates on TV channels could be a solution. Jayasekara expressed confidence in winning the General Election, with a majority of seats for the SLNPS – which they projected from the Presidential Election.

He noted that they would not require forming any alliance with Opposition political parties to form a Government.

"We have seen what happened when former President Maithripala Sirisena was in office. There was a tug-of-war between him and the United National Party (UNP). However, that will not happen under President Gotabaya Rajapaksa as the Government and the President will be from the same political party," he added.