---
SLFP argues it needs neutral symbol to keep party together
Calls on SLPP to be more flexible
Says symbol only hindrance to forming coalition
By Nuwan Senarathna

The war of words over which symbol is to be used to represent the coalition between the Sri Lanka Freedom Party (SLFP) and the Sri Lanka Podujana Peramuna (SLPP) continued yesterday, with the former backing a neutral symbol, warning that it was the best option to bring a range of party members together.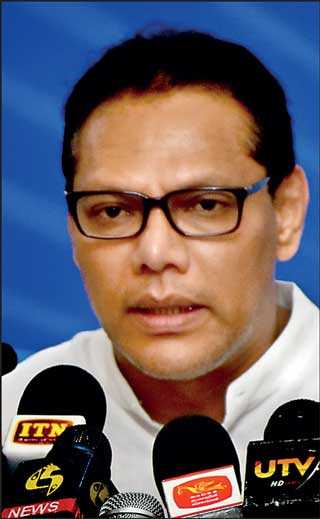 SLFP General Secretary MP Dayasiri Jayasekara addressing the media at the SLFP headquarters – Pic by Indraratne Balasuriya




Speaking to media at the SLFP Head Office, SLFP General Secretary MP Dayasiri Jayasekara argued the neutral symbol would be a common umbrella. However, the SLPP has insisted they want to stick to the flower bud symbol, as it is more popular among their vote base.

"We cannot ask SLPP supporters to vote for the hand symbol. At the same time, it is unfair to ask SLFP supporters to vote for the flower bud. Therefore, a neutral symbol is the only way to solve this issue and find common ground, so both parties can form a stronger alliance," he said.

According to Jayasekara, the SLPP should be more flexible on symbol selection. He argued that the SLFP had been flexible on SLPP terms and policies during coalition talks, and therefore the SLPP should be willing to compromise more on the symbol.

"We have been able to agree on most of the policies presented during the coalition talks. But the symbol is the only thing we were unable to agree upon. They have not shown any flexibility when it comes to a symbol. I hope we will be able to resolve this and form the proposed coalition."

He noted part of the SLFP support base were against the formation of a coalition with the SLPP, but some had agreed. Therefore as the General Secretary of the party, he had to hold a neutral position, and keep the members together. "I am representing the party as its General Secretary. I have to listen to members and take a decision that will not disappoint them."

Jayasekara argued a neutral symbol would not upset SLPP supporters, as they will vote for the coalition. "If the coalition used a neutral symbol, the SLPP supporters will not go and vote for United National Party (UNP)," Jayasekara argued.

He noted SLPP senior members, including its presidential candidate Gotabaya Rajapaksa, had recognised the importance of forming a coalition with the SLFP. Jayasekara said SLPP leader Mahinda Rajapaksa and National Organiser Basil Rajapaksa had enough experience in politics to read the situation and understand the importance of the proposed coalition, and that both parties had much to gain from working together.